Great scenery, white sand beaches, river, harbour, dairying, horticulture and, by no-means least, a live off-shore volcano and lots more - that's what the Eastern Bay of Plenty has in store...You won't believe what you've been missing and it's just a short ring drive off the main tourist triangle.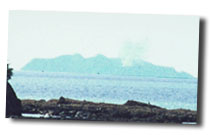 Whakatane, the hub of the Eastern Bay, is a pleasant surprise on the east coast of the North Island. It's hour's drive east of Rotorua and two hours south east of the southern Coromandel Peninsula. You can drive from Rotorua past the picturesque lakes to the Eastern Bay and then take the Pacific Coast Highway up the coast to meet the alternative (less windy) route back through kiwifruit country and the pine forest plantation.
Whakatane and the Eastern Bay offer lots of great outdoor adventures, including exciting day trips by boat or short helicopter rides out to the famous active volcano on White Island - ( a miniature Iceland with a-long abandoned sulphur mine). Most operators offer two hour guided tours of the top "hot spots". The large stream plume from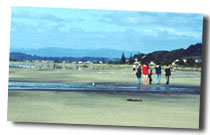 the island is usually visible from the shore. This is also world-famous big game fishing country with plenty of yellow-finned tuna and marlin on offer during the season. Bringing home a good-sized snapper or kahawai, from between White Island and the Rairimas, is also worth the trip. Diving is also popular. Tantilisingly close to the Whakatane River mouth is another delight - Whale Island - just out past the legendary Maori maiden Wairaka and her rock. It's amazing rock formations are well worth motoring your boat around. If you'd rather not test your sea legs there are several great walks from Kohi Point, Mokoroa and the Heads with wonderful vistas and lots of native bush to wander through.
Whakatane also has a long and safe white sand beach called "Ohope" which is just 5 minutes drive from town up over Hillcrest Road or via the short Mokoroa Gorge State Highway route.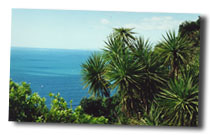 Enroute you can enjoy spectacular views at the top of the Otarawairere rise (now becoming a popular estate development area) then descend to Ohope Beach and main park area to enjoy the large spaces and stroll along the beach. Enjoy an ice cream from the store at the bottom of the hill while you are there! A few kilometres along down the main road towards Opotiki is "Ohiwa Harbour" which has an oyster farm. You can hire kayaks and explore some more or take in the harbour's rich bird life on the M.V. Te Torea. Ohope also has its's own 18-hole golf course wedged between Ohiwa Harbour and the Pacific Ocean.
After that why not head back to Whakatane main street, The Strand,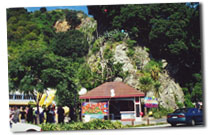 with its striking rock formations that form part of the hill (a fault line) and bordering the shopping area,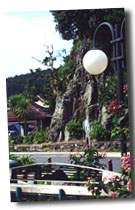 making it quite unique.
There are also fine seating areas to admire the striking rock faces!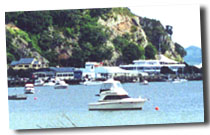 The hill runs parallel to the main street while on the other side, hidden from the street's view, the Whakatane River inlet.
FOOD
It has the recently redeveloped, $1 million plus big game fishing club, with the nearby Wharfshed Restaurant, where you can enjoy waterfront dining undercopies. and just along Muriwai Drive, past White Island Rendevous, home of PeeJay's Coffee House, the river flows into the ocean.
There is also a popular restaurant overlooking the river mouth with its tricky sandbar sea entry. One relaxing way to see this picturesque part of Whakatane is to leave your car downtown, walk along the river-side boardwalk, past all the boats and wharf, to Wairaka and her rock.
Whakatane's Strand has some great shopping.
Some of the shops and cafés include "Ground Zero", a pleasant café with stylish outdoor dining and great food.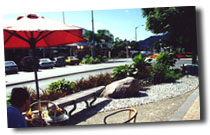 The movie complex - "Cinema 5" further along is more than complete with an in-house café, Marilyn's, and attractive environs. Say hello to the Claridge family for us!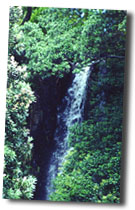 TO DO
Clothing boutiques (including Patterson's Apparel - one of Cyndy's favourites!) and specialty shops line the main street and after some great shopping, enjoy a walk further along toward the waterfall, nestled in a steeper section of the neighbouring hill. Across the stream is a great knitwear factory shop.
Then pick up a brochure at the White Island Tours office close by and plan a trip for now or the future.
The volcanic scenery on White Island is unlike most and delivers a day of visual spectacle and landscape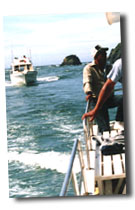 alive and unique, filled with vivid colours and earth moving action.
Just offshore from Whakatane is Whale Island - a short trip out from the heads.
There are also good places to organise a fishing charter - the volcanic activity creates excellent conditions for fishing excursions.
Try Allen's Ocean Connections or Baker, Carters, Gambler, Hardkase, Grae-Lyn, Merry, Phantom or Tuna Too Charters.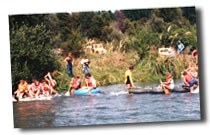 Several companies organise white water rafting or kayak tours on the Rangateiki or other close by rivers.
Try Whakatane raft tours for a taste of the excitement!
Whakatane also has a good museum and art gallery with Maori artifacts and remnants from the original farming days when the plains were just a swamp til draglines conquered it. Nearby you'll find the Visitor Information Centre on Boon Street.
MOTELS
There are a good, reasonably priced motels on the entrance road into Whakatane township (Landing Road) that have great facilities such as jacuzzi's and sky TV! There are also several motels and a holidaypark at Ohope Beach.
GETTING AROUND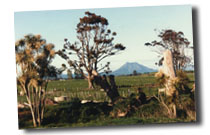 Take a pleasant trip to "Edgecumbe" and enjoy the "Awakeri Hot Pools" pools close by, where you can relax, watch TV or stay in the campgrounds. There is also a small shopping centre.
"Kawerau" is also close by, boasting the giant Tasman Pulp and Paper Mill - it has lots of sport facilities including a golf course, an indoor stadium, cricket ...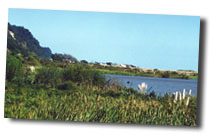 Further along the coast you come to "Matata" with ocean front picturesque lagoon and neighbouring camp ground. It is a popular "surf casting" beach.
Driving alongside the "clay cliffs" and "Toi Toi's" (large reed like plants with tuft soft ends) is a picturesque journey to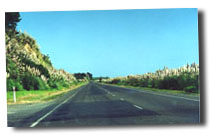 "Pikowhai". Then you turn inland towards Te Puke on SH2 and enjoy a most interesting Trading Post called "Paengaroa" full of Kiwiana and a good antique selection.
Rotorua is within an hour's drive from Whakatane.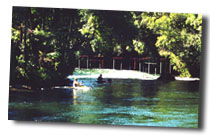 There are also some good rivers for the experienced kayak enthusiast.
There you can experience some of the beautiful lakes, such as Lake Rotoiti, Rotoehu, Rotoma and Lake Tarawera.
Take a look at Okawa Bay Lookout on Lake Rotoiti for sheer beauty. Stay in one of the close by camp grounds or lodges!

Check out the sights and activities in Rotorua.