Rotorua
is an exciting
place, vibrant with New Zealand culture and scenic beauty.
Mud pools
,
geysers
,
colourful
hot lakes
, gorgeous
flora and
fauna
and
Maori
culture beautifully presented through select groups such as "Tamaki" or "Maori Feast and Concert" at the Sheraton or the presentation at "4 Canoes" and other locations.
Stay the night at the THC and see a living Maori village outside your bedroom window - The Whakarewarewa village.
Whakarewarewa, lived in today and set on a geothermal area, right next to the main street - Fenton Street, is rich with Maori architecture - carved entrances and deep red colouring. It is set against a volcanic landscape alive with mudpools, small geysers and evolving landscape.
Drive over to the citys' boundary hills on the southwest side and stop along Fairy Springs Road where you can experience more of Rotorua's highlights.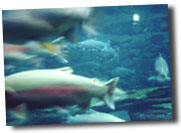 Check Rainbow Springs, where you or the kids can buy food pellets and feed them to the rainbow trout.
Sneak a look at the trouts' wonderful pink and silver skins through the viewing walls beside their pond.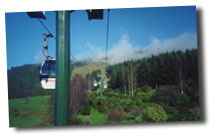 Take a ride up the hill on a skyrail for a panoramic view of the city and Lake Rotorua.
The ride to the top lasts a few minutes.You travel up in enclosed gondolas, allowing for some serious picture taking.
This is where you can enjoy the spectacular views across Rotorua and its Lake.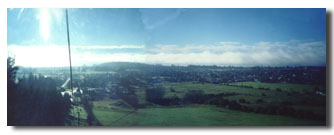 Once at the top experience a self - paced luge ride winding on a wide concrete path down the hill and take a ski lift back to the top for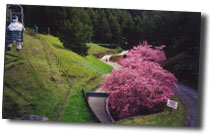 more or, a faster shot down the hill in "The Sidewinder".
There is also a restaurant at the top where you can book for dinner at night and take in the stunning view of the city lights.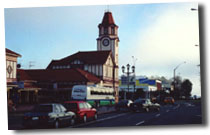 Check the Info. Centre on Fenton Street to gather detailed brochures for your adventure. From here you can take a short walk from the picturesque Tudor style architecture to Lake Rotorua's waterfront where more treats await.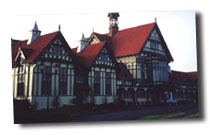 Visit the Polynesian Pools for a hot soak or experience the Blue Baths restaurant and (the turn of last century tour there) where the bathers would visit and the costumes they would wear.
See the Government Gardens close by and enjoy the beauty. Take a tour on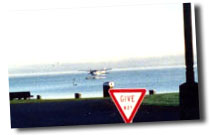 a floatplane or paddle steamer - the Lakeland Queen at dawn - or simply stroll and take in the extraordinary lake and shore views - some of which are thermal and thrust steam off of the lake and lake edge.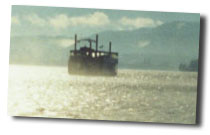 Drive on Fenton toward the southeast side of the city into Te Ngae Road and follow Lake Rotorua edge toward Whakatane on Highway 30.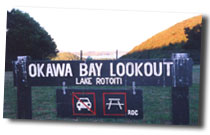 Along the road stop at Okawa Bay Lookout of Lake Rotoiti and feast your eyes on the beauty.
Here is a late afternoon view of this lookout where you can see the evening sun striking the picturesque lake and island with the yacht club nestled on the right.

Visit the Te Ngae 3d Maze on Te Ngae road just before Okawa Bay lookout, fun for kids and adults!
Rotorua has a handful of volcanic lakes - Rotoiti, Rotoehu, Rotoma, Okataina, Tarawera and others, all with interesting views, foliage and occasional spots with facilities, lodges, motorcamps fishing or boat tours.
Try Clark Gregor Trout Fishing offering fishing tours or a boat cruise on Lake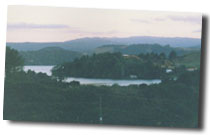 Rotomahana where you can see steaming cliffs and geysers through Carey's Rotorua Tours, who offer excellent tour packages. Or, continue driving Highway 30 and make leisurely stops on the way. You may see some kayakers taking on a section of adjoining river or stop to see a hilltop vista.
Geothermal adventure abounds around Rotorua. Check Wai-o-tapu to the south on SH2 toward Taupo, a world renound thermal landscape that has extraodinary displays of hot colourful lakes; vast silica inclines with slow water flows barely moving over the surface; active geysers, mud pools, heat sunken steam holes; plains of steam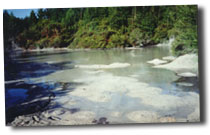 and silt and colour...enhanced by a clever framework of wooden boardwalks, bridges and carefully maintained tracks that allow a self-paced stroll through the winding paths.
Check also Waimangu Volcanic Valley on SH2 or Hell's Gate on SH30 for similar geothermal action.
In some areas you do not necessarily have to pay to see the thermal activity. Kirau Park (opposite Rotorua Hospital) is where you can get up close and personal with the hot mud pools and geysers (although you wouldn't want to!!). There is also a great footbath. You need to stick to the paths because Kirau Park has been the scene of very recent eruptions. Rotorua also has a large indoor aquatic centre nearby.
Another interesting tour takes you through "The Buried Village" which is a small drive out of Rotorua. Here you can see the village that was lost to a natural disaster and the tour gives accounts at the time from people who saw it happen.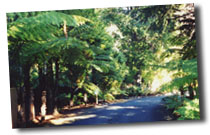 For beautiful flora and fauna, drive State Highway 30 or visit Rainbow Springs, Paradise Valley Springs, the latter boasting trout, birdlife, a lion pride, streams and flora and fauna.
Rotorua has some well-arranged displays of our farming heritage primarily for overseas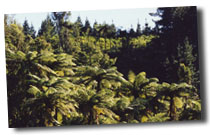 audiences, but still interesting and educational. Visit the "Agrodome" and see sheepdogs perform. See a dozen living examples of pedigree rams, shearing demonstrations and farming exhibits. Check also "Rainbow Farm" opposite Rainbow Springs that offers similar activities.