McCombie and Lee may have struck gold back in 1878 but it remains a mystery why more people have not, as yet, discovered the many charms of Waihi.

Why would anyone ever want to go and stay in Waihi (or for that matter, Waihi Beach)?

For starters where else in the world will you find a place with a large gold and silver mine smack bang in the middle of town? And, in stark contrast, where else do you find natural wonders to rival the Karangahake River Gorge at your western doorstep, the Kaimai Ranges to the south, and the miles of safe swimming and white sands of Waihi Beach and Bowentown Harbour to your east?
Waihi looks over its own, pretty secluded lush pastoral plain with the Coromandel and Kaimai Ranges to its west and the Pacific Ocean only 11kms to the east. It enjoys a subtropical climate and higher than your average rainfall, thus the its Maori name, Waihi, meaning rising waters.
As a family holiday destination it also has, as they say, "location, location, location!" and not just because of its magestic phoenix-lined main highway entrance. Where the scenic Coromandel, the Bay of Plenty fruit bowl and Waikato farmlands meet you'll find Waihi. This means the town is within one to two hours drive of Tauranga, Hamilton and Auckland - yet, refreshingly, it is not yet part of the tourist-trap rat race. The big cities are only a day trip away but, better yet, you do not have to visit them at all.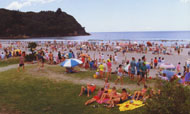 Waihi and Waihi Beach offer you the chance to get away from it all and enjoy the great outdoors beit tramping, camping, golfing, swimming, boating or just exploring the area's romantic goldmining history. Waihi only has Subway, chinese takeaways and a Thai restaurant, KFC. Most of the ATM machines, and there are five, are up on the Seddon Street and one on Rosemount road. There are lots of cafes for the ubiquitous flat whites and scrumptious baking and sandwich bars.
In high summer Waihi-Waihi Beach is a popular family holiday location, especially for people from the Waikato. A good time to discover the area is in January with the many summer activities or if the Martha Mine ever has another of its community fundraising Open Days, where you can walk into the hot ,arid, open cast pit. A rim walkway allows easy access around the open cast pit at any time.
Martha Mine
No trip to Waihi would be complete without a trek up the Moresby Avenue viewing platform looking down on the Martha Mine workings. Hundreds of people gaze down on the hard rock mine every day from above its rim. (The viewing platform is only a couple of hundred metres away from the town's main roundabout. Even closer is the viewing area behind the historic Cornish pumphouse at the top of Seddon Street. Conversely, visitors can go on a tour organised by the Waihi Gold Mining Tour Group, (bookings essential) to see the mine up close and personal. These tours take two hours and as they are popular-year round pre-booking is essential, cost $28 each and downwards, ph 078639015.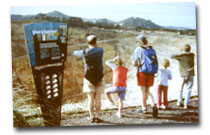 Surprisingly, the mine is only a stone's throw from the town's main street yet you can drive through Waihi on State Highway 2 and never even notice the big pit with its ant-sized miners and super-sized trucks far below.
Today they're blasting the heart out of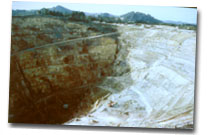 the old underground Martha Mine workings and making what must be one of the largest man-made holes in the Southern Hemisphere. Crushed up ore and overburden is put through the eye of a needle and, after its mineral goodies are extracted along with the overburden, is being made into a tailings jam hill or two on the outskirts of town. About four million dollars worth of gold and silver is extracted each week from the profitable mid-sized mine.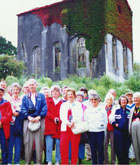 Cornish Pumphouse
The old Cornish Pumphouse, Waihi's best known mining landmark, has moved into town from the side
of the ever-widening openpit. Sadly, the 1904, relic, pictured here with a group of American tourists, is now accessible to the tourists in a new location opposite the visitors centre in upper Seddon Street.
Other old mining workings, such as shafts and drives, also lay dotted through the Karangahake Gorge and round Waihi if you know where to look.
HAURAKI GOLDFIELDS and KARANGAHAKE.
Big remnants of the Hauraki Goldfields still exist such as the Victoria Battery at Waikino, whose 200 stampers used to crush 812 tonnes of quartz a day; and the remains of the Crown, Talisman and Woodstock mines and batteries at Karangahake. It is hard to believe nearly all the little goldmining towns dotted along the Ohinemuri River and up into the Waitekauri Valley are gone.
Still we can enjoy what remains in Waikino and Karangahake. At Waikino battery site, relics, a museum, operational tramway and ore roasting kilns are well worth seeing.
Instead of driving through to Waikino you can catch a train, along the old 6.75km Waihi line. The vintage service is operated by Goldfields Railway, a local voluntary society and runs three times daily. I'ts a great rainy day chug activity during the school holidays. From the 'Kino Station and coffee shop you can trek the rest of the way to Karangahake on the popular walkway which follows where the rest of the old railway line through the Gorge. Of course you would have to organise your own transport back to Waikino or Waihi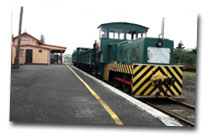 Two of the highlights, aside from the exhilaration of the great river gorge itself, are the mile-or-more-long former railway tunnel and the swing bridges. The highly popular walkway system, administered by the Department of Conservation, can take a whole day to explore or a couple of hours if you want to take on the tunnel and stroll around the ring walk back to the Karangahake carpark, beside the swingbridge just across from SH2. It is suitable for people of all fitness levels and parts of it are designed with wheelchairs in mind. The Ohinemuri River is also popular with fly fishermen and women angling for a prized trout for dinner.You can also access the Kaimai Ranges walking tracks from Waitawheta and Dickeys Flat, near Waihi.
One of the lesser known, but worth seeing , attractions up in the bush are the giant twin kauri trees - high up on a ridge. You'll need a good map and directions from an in-the-know local, or enquire at the Waihi info centre.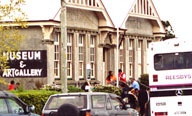 For more general information on Waihi's history, which saw 5.6 million ounces of gold produced through to 1952, we recommend the Waihi Museum and Arts Centre on Kenny Street (with its infamous thumbs, mine machinery models and good local exhibitions). Or you could stop in at Waihi's Information Centre.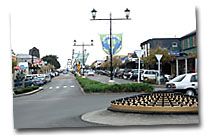 MAINSTREETS
Waihi's historic mining past has also been saluted in the recently completed upgrade of its mainstreets, particularly Seddon Street, leading up towards the mine. Millions of dollars have been spent giving downtown Waihi an old world facelift. We particularly like the statues, mine ball roundabout and other mining memorabilia.
Like famous mining towns round the world, Waihi has its share of stories to tell - especially in and around the 1912 Miners Strike. A plaque outside the Memorial Hall on Seddon Street informs passers-by that Frederick George Evans was killed by the Massey's Cossacks (horse-riding police) nearby making him New Zealand's first trade union martyr.
Elsewhere round Waihi, particularly between SH25 and Martha Mine, unstable areas of Waihi, with old underground mine workings below them, have been fenced off. The ever-enlarging Martha Mine is claiming more of the town with the multi-million dollar project still having several more years life left. Miners are also eyeing up nearby Gladstone and Union Hills. Eventually the Martha Mine will, we are told, become a large recreational lake and be left as park land.
Many of Waihi's shops, homes and other buidlings date back to the original mining days. The Rob Roy Hotel in the middle of town is one, Waihi Hospital (still in operation) is another and plenty of people still live in little miners cottages.
The wider-Waihi area is well-known for its many arts and crafts people with a good muster of local painters, including Val Tubman, and plenty of great potters.
For contemporary and traditional art works call into the award winning Art Market, Waihi. Paeroa and Katikati have a good group of antique and collectable shops to browse through.
EATING OUT
Back in the pre-modern mining era Waihi was home to the electronics industry with its Akrad Radio, Pye, then Philips factories. Nowadways the "pyes" are likely to be spelt pies and come from one of the town's popular bakeries. The donuts are pretty good too! Aside from the cafes and pubs, Waihi has several really good cateries. The Old Borough Chambers on Haszard Street is now a cafe, wine bar and restaurant. Very tasty and great for an enjoyable meal out with family and friends. Ohinemuri Estate Winery and Restaurant, off the highway on the Paeroa approach to town, is also great for a light lunch including locally-made organic produce and wines.
On Orchard road,off Waitete Road, overlooking the ranges, is Waitete Restaurant, Cafe and Ice creamery which offers modern fine dining in a country setting with ample parking.
Out at Waihi Beach we recommend you try Flat White Cafe ( the seaside restaurant that is), Bowentown Boating Club, Waihi Beach Memorial RSA or the good old Waihi Beach Hotel for a meal. Cactus Jacks on Wilson Road is also popular as are the local fish and chip shops.
ENTERTAINMENT
Some entertainment is offered in the area at night, including bands at some of the hotels and RSAs, concerts at the Waihi Beach Soundshell over the summer, but mostly it's a great place to laze about and relax. Tauranga is not too far away if you hanker for the bright lights and multiplex cinemas.
Waihi Beach - Bowentown - Athenree
Another of Waihi's big attractions is Waihi Beach. If you like Ohope, Mt Maunganui and/or Whangamata beaches you will "love" Waihi Beach. It's a world class beach and only 10 minutes drive from Waihi. Only around 3500 people live year-round at the popular white sand beach which is about 8-9 kilometres long. With little swell and only a small surf most days the beach is safe for swimming and its surf club has regular patrols, and flagged swimming areas, during the summer months. The New Year's Beach Sports Day is a long-running tradition and everyone is welcome to join in the old-fashioned seaside fun and games. Remember three-legged races?
At the Beach Top 10 Holiday Park, a swimming pool and gym facilities with sauna and spa are open to the public. At the North End of the Beach a popular half day outing is the trek around the headlands to Orokawa Beach which is a Pacific Ocean hideaway sans castaways. It is only reachable by foot or boat and is uninhabited. Picture a pohutukawa-lined white sand surf beach with no sign of human habitation in sight. Glorious, but remember Orokawa is not a safe swimming beach!
Eventually keen trampers will be able to follow a series of linked coastal walkways all the way to Whangamata. Presently you can trek as far north as Homunga.
Drive along Waihi Beach to the south and you will see a picturesque lagoon off to your right, which is actually Athenree Estuary, and then up onto the Bowentown Heads, a fortified Maori pa, for a wonderful 360 degree view of the beach, estuary, the top of Tauranga Harbour, the Kaimai Ranges and down to Mt Maunganui, visible at the other end of tree-clad Matakana Island. You can walk over from Anzac Bay to hidden Shelly Bay on the Harbour.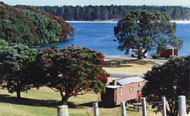 Bowentown has a couple of good concrete boat ramps, a great boat club (with a restaurant over looking the harbour)and Coastguard, so bring your boat. Harbour or sea fishing is popular - ask the locals for tips and where to, and not to fish, round the Mayor. Tour operators also offer fishing trips for the otherwise boatless.
If you enjoy warmer waters we can recommend a relaxing soak at the Athenree Hot Springs and Holiday Park which has lovely clean pools, tended to by Don, with piping hotwater from deep underground.
Athenree also has a great roadside avocado stall and to your right, as you reappoach the State Highway, you'll see the earliest house in the area, the Stewart Homestead, is being lovingly restored to its former heydays. A marvellous project! The former Athenree railway station isalso restored on the site.
KATIKATI
As you drive towards Tauranga many of the side roads to your left will take you to harbour-side settlements such as Tanners Point, Tuapiro, Ongare and Kauri Point. Well worth a look-see if you have time.
Picturesque Katikati township, set amongst the kiwifruit, avocado and other orchards, is also only a few minutes drive from Waihi and Athenree, towards Tauranga on SH2.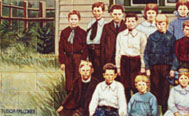 Katikati is an outdoor art gallery in progress. Murals of historic local scenes and buildings are continually going up on the outer walls of its shops and other commercial buildings. Many of the 23 murals and three sculptures are works by local artists and after a stroll around town it comes as no surprise that Katikati regularly wins awards for being New Zealand's best small town. While you can wander along and look at the murals any time guided tours are also offered- ask about these at the Mural Town Visitor Centre.
Katikati also offers an enjoyable couple of hours shopping with its good selection of shops, particularly women's fashion outlets, homewares and antiques-collectables and lots of lovely local crafts.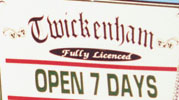 One of our favourite stop-offs is Twickenham Homestead, on SH2, for brunch or a coffee. The kauri homestead was lovingly restored a few years back and is now full of antiques and happy diners.
Tripping out of Katikati heading north you should spot Lindemann Road off to your left. There is a good look out if you have a few minutes to tiki tour to the top.
Crepe lovers can also make a beeline for a special stop off enroute back to Waihi - the Athenree Pancake House and Tearooms.
Northwards to the Coromandel.
Another great day trip from Waihi and Waihi Beach is up for a drive round the southern half of the Coromandel Peninsula. Driving north on State Highway 25 on a quite windy road, typical of the peninsula, the scenic route first winds down to Whiritoa Beach - known for its white surf beach, offshore islands, northern lagoon and southern blowhole. Again white sands and pohutukawa trees abound. Stop off for an icrecream at the shop.
Further north wards and up over a few more hills and the highway winds down to the big Coromandel tourist town of Whangamata (popular with Aucklanders, particularly in their teens and 20s) with its picturesque estuary, harbour, offshore island and mile upon mile of surf beaches. During the summer season the shops and cafes are open seven days. After you have had your fill you can drive further up the peninsula to Ohui and then back over the bush clad and afforested ranges to plush Pauanui (playground of the rich) with its pink paving, canal developments, and then over, back past Hikuai, to Tairua across the Bay. You can continue northwards or drive across the Coromandel Range to Thames and from there Waihi is just another hour's drive back, via Paeroa.
WHERE TO STAY
Waihi Beach and Waihi have a variety of motels, camping grounds and homestays to choose from. You can also rent someone else's fully furnished beach bach or house for a reasonable rental by checking with the local real estate agents.
Waihi Beach has the Beaches Motel or the Sea Air Motel and Holiday Park out near the airport. There are also four holiday parks in the Waihi Beach - Bowentown - Athenree area offering anything from tent sites to cabins.
In Waihi the Goldmine Motel has opened in Victoria Street, offering 10 air conditioned units; while Palm Motel, which has a swimming pool, and Waihi Motel, are both easy to find along S.H.2.
If you want cheap accommodation, think backpackers and the like, try the historic Rob Roy Hotel or the Burrowing Bullie (in the former Golden Cross Hotel). Waihi also has a camping ground.
WIND-UP
So, now you know. Waihi is a great place to go (to). We hope to see you there soon...