Victoria hosts some of the best city life and Australian townships including Melbourne and the outlying provincial cities of Bendigo and Ballarat.

MELBOURNE, built around the "Yarra" River, is alive, brimming with commerce, shopping and cafe culture and has an energy , vibrant in lifestyle, theatre, festivals (including the Moomba Festival in March, The Melbourne Cup and The Melbourne Grand Prix) . Victoria's rich in history within Melbourne, Bendigo and Ballarat.

In this brief overview we will cover Melbourne sights, shopping , food, hotels and then breifly the neighbouring towns- Bendigo and Ballarat.

GETTING AROUND

If you are going to see Melbourne and the neighbouring towns it is smart to get a rental car to maximise your time. You can book one in advance with your travel agent and pick it up at Melbourne's Tullamarine Airport on your arrival.

TIP - The rental car buildings are outside the airport in a separate building. When you book a rental, make sure your agent organises your contract to "pre-pay" the freeway tolls - it saves you a lot of time.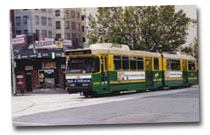 If you are not going to the outlying towns you can choose to rent a car or you may get a bus from the airport to downtown Melbourne (Flinders Street Stations) then take one of the many rail trams (trams like San Francisco) to most areas around Melbourne. They are fast frequent and relatively inexpensive.
To get a good start in your rental car, leave the airport, turn onto the Tullamarine Freeway and head for the city. When you get downtown drive to the city centre (drive to where it gets busier). By doing this you will find the best carparking buildings (close to the city) and you can park, and see a bit of the city first-hand, get a coffee, relax, study your map and get your bearings.
SIGHTS AND SHOPPING
The Daimaru Centre is a good starting point. The multi-storied mirrored building is the focus for an enormously tall circular glass roofed cone shaped atrium enclosing an entire brick building called the "historic shot tower". This tower is refurbished with classy shops, while the adjoining mirror building holds curved levels with dozens of shops and multinational chain stores. A great feature of the centre is the spectacular focal clock which crowds gather to watch.
The floor is tiled white and has a stage for displays (community or business focus) and is a (the steps to the stage) popular place for sitting and people watching.
Downtown the excitement and energy of Melbourne is ever present in the city and you can cruise the main streets and find all manner of shops - bath and perfume shops, camera discount stores, music stores, computer stores, cafes, clothing stores, bookstores, street newsagents and unique specialty stores.
Within walking distance from the Daimaru centre is one such arcade (called the galleria or royal arcade) with some facinating specialty shops.
There is a shop that sells Russian 'Babushkas' (those dolls within dolls) that are quality large sets with a variety of themes and genuinely Russian made, beautiful hand painted and decorated with gorgeous depictions, colours and giltwork. You can get some good examples for $500-$600 NZ dollars. They also sell quite inexpensive spinning tops.There is another shop that sells puzzles and board games for all aged players.Downstairs at the end of the mall is a war games specialty shop that also sell models and magazines.
Downtown also hosts the Rialto Towers on Collins Street, where you can get a spectacular view out over the city from its public observation deck.
Melbourne has many famous districts with a good range of shops for "shopaholics".
"High Street" is famous for antiques, jewellery, Persian Carpets and other specialty shops like handmade glass lamp galleries.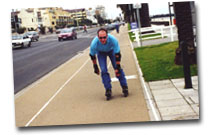 "St Kilda" is famous for the beach scene, markets, in-line skating, trendy restaurants, delicious cake shops. It has a laid back feel with its palm trees and fantastic late night bookstores (very cool).
In-line skate rental shops at St Kilda can kit you out with a nice set of skates - as you can see!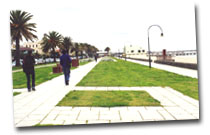 You can skate on the beach front on the marked paths, while keeping an eye out for cyclists who want to pass.
At one end of the beachfront path you can exit onto an "over the ocean boardwalk" that heads right off the beach out to the sea.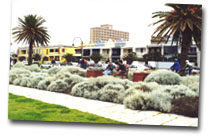 There are also many beachfront restaurants along the way, so you get a good look at St Kilda while you ride.
There are some interesting curving paths that you get to skate on also or stop for a rest on the park seats after a good run on the skates.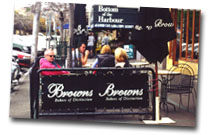 Check out one of the many cafes during the day for a nice coffee. The restaurants are usually at their best in the night time and it is well worth a walk down St Kilda's main street to visit the late night bookstores and check out the latest paperbacks, picture books and topical specialty titles that abound on the shelves.
"Richmond" has discount stores for clothing and homewares and funky youthful clothing shops. Check out "Dimmeys" store on Swan Street full of super discount clothes and accessories.
"Collingwood" has factory stores such as famous brand name shoe stores that are warehouse sized and have loads of track suits, shoes and other apparel at really low prices - almost half or even less, the price you regularly pay in New Zealand for instance.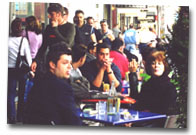 "Chapel Street" is the suburb for the "label" conscious. It is high in attitude for clothes and hot fashion with the latest interior design accessories and furniture, filled with international design label brand name shops.
The interior design stores are famous and often feature in magazines with state of the art ideas, colours and presentation.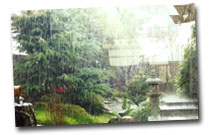 Just look at this gorgeous Japanese rock garden (photo on the right) under the pouring rain out a viewing window in one of the household design stores in Chapel street ...breathtaking! The shops in Chapel street ooze with style and the designers in them have a flair for art and inspirational ideas - they could be anywhere in Europe.
"Victoria Market" close to the city (with pricey parking) is one of the world's great markets with New York style fresh food delis supplying wonderful tasting meats, cheeses, breads, vegetables and more...it also has a barrage of "import clothing and goods" stalls with an alfresco street style table and chairs area where you can drink your deli ordered coffee and watch the buskers! Hang around and wait for a spot, they're usually at a premium. It has heart and life with many young people.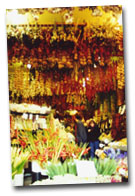 "South Melbourne Market" (corner of Cecil and York Street), South Melbourne, open W, F, S, S). is equally as lively with less tourists because it is further from the central city. Its filled with imports, awesome deals on clothing, day-to-day accessories (like trendy cell phone covers) and housegoods (like solid brass filagree Morrocan lanterns). It is where the locals shop - a "real McCoy" market
It has a vegetable market (see the dried flowers in the photo on the right) and all manner of products...you can get in some interesting shopping.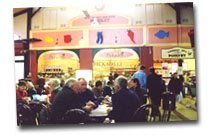 Attached to the South Melbourne Market is a foodcourt (see photo on left) with cultural foods, baked goods and coffee.
You can sit at one of the many tables with lots of other happy shoppers and take a load off your feet.
The Sunday Art Markets are also wonderful and you can buy orginal art and crafts. You will find them close to the Victorian Arts Centre, in the city.
Fitzroy is a district with a "hip" feel, the restaurants, cafes have a laid back funky style.
For great music CD's check out a shop called 'Readings', close to the University, that has a comprehensive selection of music - just as good as Marbecks's in Auckland, New Zealand. Great for that elusive" CD you've always wanted but could never find.
The Melbourne Zoo, in Parkville, famous for its re-creation of natural habitats for animals is worth a visit especially with the kids!.
The Melbourne Cricket Ground ( "The MCG") on Brunton Avenue host cricket, rugby - where you might see an "Aussie Rules" football match with 100,000 people and other large events. You can book on specialised tours in small groups to learn about the game and go to see a match...a lot of fun.
If you are lucky enough to be in Melbourne in March you can go to the Moomba festival that centres around the "Yarra" and is a visual arts festival with bands, boats and water laser displays.
FOOD
There are numerous places in Melbourne to dine. Every district has its spots. Heaps of ethnic food. For cafes and lunch downtown try "hardware lane" which is a picturesque cobbled outdoor lane with great cafe culture.
On one of the upper curved levels of the Daimaru Centre there is a large foodcourt with famous fast food chains and other restaurants serving food from the world, but get your table because they go fast.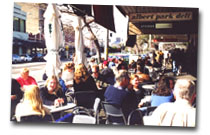 Albert Park - The Albert Park deli is a good spot for food and coffee.
Outside at the numerous tables and chairs in the sunshine where you can sit with lots of happy sungoers and "shoot the breeze".
It is a great spot to sit and relax and take the kids with you for a nice lunch or a specialty coffee and hang out with people from all age groups.
In St. Kilda there is an Italian stylish and busy restaurant that has great atmosphere, with large plate glass windows that form the street side wall, it is located on the main street (with palm trees).
There is an "Historic Tram" (book before you leave New Zealand) that you can dine on while you see the sights in Melbourne, called "The Colonial Tramcar Restaurant".
Try the amazing cake shops in St. Kilda and there are really good pattisseries in other suburbs.
Ask around , there is a really good Kosha Bagel shop in Melbourne also.
There' a delicious Italian ice cream shop close to Brunswick Street as well.
HOTELS
There are serviced apartment hotels, bed and breakfasts and numerous places to stay.
BALLARAT AND BENDIGO
Driving back onto the ringroad surrounding Melbourne you can follow the signs on the freeway out of the city to Bendigo and Ballarat easily within 90 minutes of Melbourne. These cities are rich with history and are worth a visit in their own right. Downtown Bendigo is "Victoriana" at its best.
BALLARAT HISTORIC TOWNSHIP
SIGHTS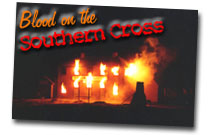 The birthplace of modern Australia, Ballarat has one of the world's best historical re-enactments, the "Blood on the Southern Cross" by night and Sovereign Hills by day.
"Blood on the Southern Cross" describes the famous confrontation between the British and the Ballarat gold miners back in the 1850's.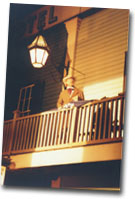 It uses elaborate pyrotechnics across a valley sized outdoor set (25 hectares!).
There is only one actor in the entire presentation (other than the narrator over the PA system) and you are taken back to the historic township by tram bus to see the final scene of the dramatisation play out.
The township is lit (see photo on right) and eventually you move to the town hall to hear the actor - portraying hero "Peter Talor", wrap up the story.
This remarkable show is staged twice nightly, must be booked well in advance before you leave New Zealand or wherever you come from.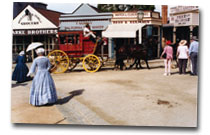 "Sovereign Hill" - The goldrush theme park sees you step back in time to the Victoria Goldfields of the1850's.
There are soldiers, miners, printers, leather makers, furniture makers, blacksmiths, candy makers, dressmakers, potters and more.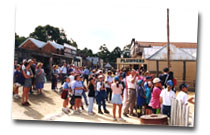 There are crowds every day to see the spectacle and buy goods from the shops.
You can enjoy a leisurely stroll up and down the many wooden boardwalks window shopping and dreaming of a time past.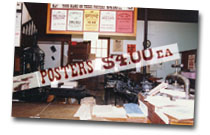 Maybe stopping in the print shop to get an antique-style "WANTED" poster made up to hang on your wall at home.
A recreated miner's camp with tents and diggings is just down off the main street. There is a running stream that meanders between the miners' tents and you can pan for gold in it.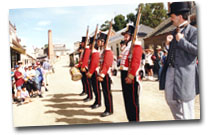 Sovereign Hill is home to a garrison of foot soldiers in their colourful red uniforms who march up and down the main street.
The 1850's town has a schoolhouse, saloon, newspaper and photographer, stables with stagecoaches.
The steam engines are fully operational that run the blacksmiths machinery with giant fan belts.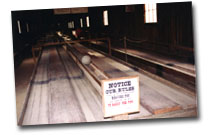 There is even a bowling alley the miners used for recreation - the only drawback being that you have to manually replace the pins after you knocked them down.
The fun of it though is you play ' 9 pin bowling '...it's all set up so that the visitors experience the lifestyle that the miners of early days lived (the enjoyable things to do anyway).
The GOLD MUSEUM, is opposite The Sovereign Hill theme park and has lots of gold displays. There is also a gift shop opposite Sovereign Hill where you can get a souvenir sweatshirt or clothing and gifts.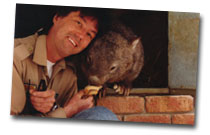 The Ballarat Wildlife Park is well worth a look to see koalas, kangaroos, wombats, Ibises, Tasmanian Devils, crocodiles and other creatures in near natural settings.
The park is run by an active proprietor (Greg Parker) , much like the famed "croc hunter", but less internationally well known yet also with the same uninhibited hands-on approach to dealing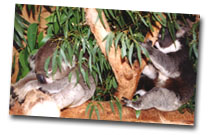 with the animals.
Here he is pictured with his pet wombat that he feeds from his own hands, just like a cat! (but looking like a gigantic mouse!)
The park has baby koala bears feeding on the eucalyptus plants all together the way they would do naturally.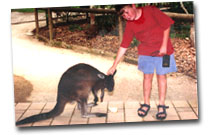 Koalas need large amounts of eucalyptus leaves to feed on and it takes a lot of people to keep the zoos supplied with this foliage. There is an industry dedicated to its collection.
It has friendly kangaroos running around the park that you can go up to and pet like a dog ... and this one looks a bit 'sheepish'.
The kangaroo here is bending his head just like your cat or dog does when he doesn't really want a pat (but has to because there might be a treat later).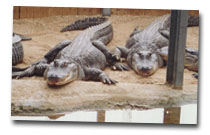 The park has a swamp cage of saltwater crocodiles that you don't go up to and pet... (although the crocodiles might like you to)...but the owner does interact with them, and tells you all about them!
Crocodiles spend a lot of time in the sun to literally generate their energy.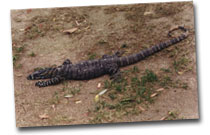 When they move, it is usually in short spurts and very fast and they are capable of killing a horse or other large animals.
There is also a large lizard, but it is not a komodo dragon.
It is most likely an indigenous species to Australia.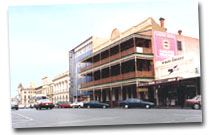 Ballarat has plenty of historic buildings from the 1850's (an old city - Mark Twain stayed in the city at the Hotel Craig in downtown). The staircase inside the Craig Hotel is worth a look - wide and curving up to a high second level.
The Hotel Craig also has an antique elevator that is still in operation and you have to pull the steel cage door shut before you press the floor button.
The Hotel Craig and the George Hotel are both on Lydiard Street (see photo on right).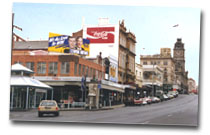 The main street has the info centre on the left (gazebo like structure) you see as you come in from Melbourne.
You feel like you are in an old established city with wide roads and historic buildings disappearing in the distance.
Ballarat downtown also has a wonderful FINE ARTS GALLERY with a Sheraton Corner Unit, amazing antique oil paintings and antique furniture and has the original Blood on the Southern Cross flag (about the size of a single story wall in a typical bedroom) and other memorabilia.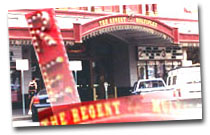 Check out the Regent Theatre, a really superb historic theatre with gilt and marune decoration.
You can catch a show at the multiplex inside and relax to the latest hollywood movies and admire the ambience of the interior.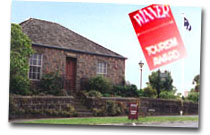 Montrose Cottage is a historic cottage was built by a master stonemason from Scotland around the mid 1850's. The cottage shows how people lived during the Eureka uprising in 1854 (the Southern Cross battle). It has authentic utilities and furniture (even fabric ceilings because wood was in short supply and expensive). There is an onsite guide who gives you a tour of the surroundings and museum out the back.
FOOD
For lunches, the "Capri Cafe" is awesome and serves restaurant food and snack lunches in cosy cubicles just like in American diners, with courteous service and a grille like atmosphere. If you are on the run they have a takeaway glass bar at the front and you can order "to go" there. You can get typical Australian or New Zealander snacks, like ham and cheese on toast with a fancy coffee/tea or other dishes, at reasonable prices.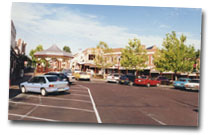 There is a nice restaurant called "Steak Seafood Pasta" that serves a great meal of all three, located in the main street in the historic precinct (photo left), it has email facilities also.
There is also McDonalds restaurant next door and down the road a couple blocks on the road into the township from Melbourne is "Hungry Jacks" restaurant, that serves burger meals. There are a few restaurants around Ballarat and you can find some by walking around the downtown area.
HOTELS
The "Craig's Royal Hotel" in downtown Ballarat at 10 Lydiard Street gave us breakfast and lodging for two for a budget of around $40 Australian (for 2!). However, don't expect a TV; and showers and toilets are down the hall, but it is great value (especially with breakfast) and quiet and warm and safe.
The George Hotel, and the Motor Lodge are also in downtown.
BENDIGO HISTORIC TOWNSHIP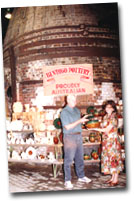 About an hour and a half's drive north from Melbourne you will find a captivating city. Bendigo has the oldest surviving pottery factory called "Bendigo Pottery" established in 1858, it is a big tourist draw.
It has a cafe and several galleries, art display, a pottery school, "Mogliagul"-(the name of their general store).
The founder of the pottery factory was originally a gold digger and noticed a rich clay that could be made into pottery so he created a factory and it stands till this day.
There have been lots of changes since 1858 obviously, with new markets in industrial pottery over the years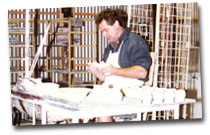 such as piping and eventually roofing tiles. Around the late 1960's they re-established markets in domestic goods such as mugs and dishes, where there is till this day a strong demand.
The potter (photo right) shown is creating the classic bendigo pottery stoneware mugs that have a brown-red base and green upper finish, just like the casserole dish the woman is holding in the photo above.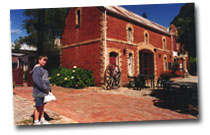 The cafe (left) is a gorgeous brick building in a brick courtyard.
It has tables outside so you can enjoy the desert sunshine and brilliant red colour of the earth.
The Moliagul Store (which means "wooded hill" in aborigine) was located 50km west of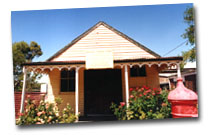 Bendigo.
It was moved to the pottery location in 1975 (see photo right).
The biggest nugget of gold found in Australia was found at Moliagul in 1869 and measured 53cm long and 23cm thick and had a weight of 73 kg's!
But the most amazing thing about Bendigo are the downtown buildings, more impressive than Ballarat.
The Shamrock Hotel is one of the oldest hotel buildings in Australasia and you can stay there - but book in advance because its popular.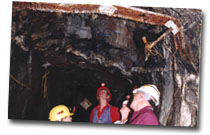 You can also visit the "Central Debra" gold mine (still in operation) however the tour runs above the operational areas and remains in the shallow levels only. You go down a shaft to level 2 and take a tour around the old workings.
Underground you can see some of the ceiling supports for the upper levels as you move through the mining tunnels.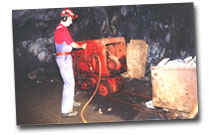 The miners have a railway system with trolleys that roll out the mined rock that contains the gold.
It is then taken to the surface to be processed in order to extract the gold that lies in the rock.
The miners had a "mini locomotive" called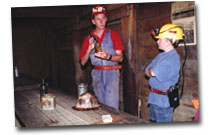 a "bogger" (see photo above) that is the engine used to haul the many rail trolleys to the surface and back.
You also get to see where the miners would relax at "smoko" (break) time and they would play the game of cribbage.
The room (see photo right) is dubbed "The Crib" room and if you look in the photo you can see the pack of cards and cribbage board they would use.
Bendigo is honeycombed with old mine workings and "Central Debra" is the only one in operation now, although you can walk around "Victoria Hill Mine" - which was an old open cast mine.
You can book a "talking tram car" tour that lasts about an hour and takes you around the city. You could also go see the old Chinese "Jos" house that is full of intriging Chinese memorabilia from the early 1900's.
You can drive a half hour to Ecuha (Achooka!) that is a small town sitting on the Murray River and hosts the historic paddle steamers and wharf where you can take a nice ride on the river.
On the freeway from Melbourne to Bendigo there are a number of other stop offs and one is a Mohair shops and a camel farm that sells goods.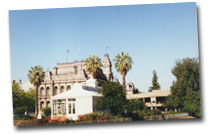 Central Bendigo's central civic buildings include a 19th century summer house atrium and surrounding public garden.
It has a beautiful civic building framed by fully grown Phoenix trees and a gazebo like greenhouse set amongst beautiful manicured lawns and gardens.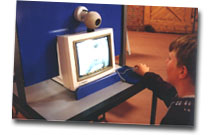 Bendigo also has a great Discovery Centre (science centre).
It is for kids of all ages and is located next to a new shopping mall.
There you get supervised hands on experience with the science displays so that you can learn while having fun.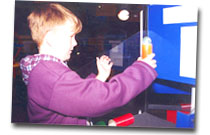 They have a floating ball exhibit (see photo on right).
The speed and pressure of the ball can be altered by lowering your hand over the ball once the ball has been placed carefully above the tube of pressurised air.
They have another exhibit, where you lean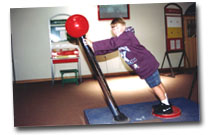 against a steel tube with a ball on the top...but we'll let you find out about that when you go ....
There is also a computer camera that allows you to see yourself in real time on the computer screen and has many other exercises and interesting displays. A great place to go fo amusement, both for the kids and adults alike!
FOOD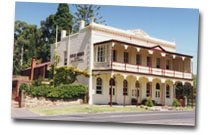 The "Goldmine Hotel" is a lovely place for lunch in the courtyard out the back - opposite Victoria Hill. You can order fish and chips or other delicious meals and snacks.
Stockman's (famous chain) is in the big shopping mall close to the science centre.
HOTELS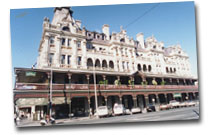 The Shamrock is fun, with bell hops (baggage porters) and early 1900's surroundings.
Book in advance from New Zealand because it is popular.