Don't just drive through Tirau. Stop off and have a good look. No, drivers, your eyes aren't deceiving you. You really did see a giant corrugated iron dog and sheep and, yup even a castle! In fact in every nook and number 8 wire cranny you look this rural highway town is pure kiwiana. There is no way you can blink and miss it. This town is putting itself on the map!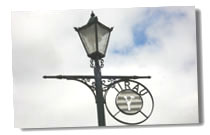 PLACE
Tirau is a rising star in the northern North Islands 'golden tourist triangle' and more and more people, kiwis included, are discovering its delights. It is full of crafts, arts, antiques and serves espressos for those adventurous cafe vultures from the cities. Virtually every time you drive past some new shop or other has popped up.
While it dates back to the 1880's and was originally called Oxford, Tirau's modern day renaissance kicked off about 15 years ago when one, then more, business people worked out that it would soon be 'the spot' to open up shop.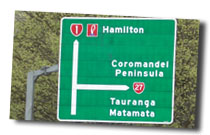 You see Tirau, which is otherwise pretty much like any other rural Waikato town, sits smack, bang in the middle of three major State highways. State highway 1 to Hamilton to the east, and Taupo and all places to the south, SH27 to the Coromandel and up on to Auckland, and SH5 across to Rotorua.
Tens of thousands of travellers drive through it every day, making the little rural town a runaway success- so much so that its story, and amazing 30% commercial growth rate, recently made television news. As one local store proudly states: 'No city rates, No city prices. Made here to sell here'.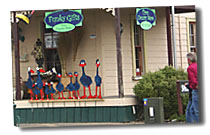 Tirau is now becoming an attraction in its own right and not just a stop off, for long distance travellers, on the road to somewhere else. Even people who live hundreds of kilometres away have begun to compare notes on where eat and what to see and do in Tirau. It has come along way since the first, trail-blazing antique shop first opened. These days the Oxford Cafe, on the top of the rise, houses a great array of antiques and collectables, from several dealers, and in their midst a welcoming cafe!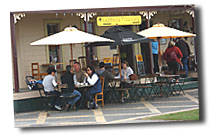 SIGHTS
Apart from some of the more unsual shaped buildings, the first thing you notice about Tirau is how busy it is.
This is no one horse town and parking is at a premium.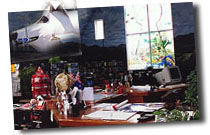 1. A top stop is the big iron dog information centre.
The 'sheep dog' (kind of a national icon thanks to the cartoon 'Footrot Flats') houses the public conveniences. These are most important for longhaul travellers, especially those with kids. Though busy, the toilets are usually very clean and even have flower arrangements.
Even if 'nature does not call'', the 'bowels' (pardon the pun) of the sheep dog house a great information centre with a huge selection of tourist brochures covering places the length and breadth of New Zealand. (Don't forget to pick up a Tirau visitors' guide). The info centre also has comfy arm chairs to rest and stretch out in and beautiful stained glass windows and murals to admire. There is also the Kinda sheepish cafe out the back.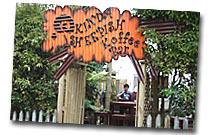 2. Sheep dogs, as you'd imagine, are also a central theme. They even have, believe it or not, an Elvis Presley dog!
The giant sheep next door? Well, it houses a wool gallery that sells all kinds of wonderfully warm souvenirs produced off a sheep's back. Don't be sheepy, have a look!
3.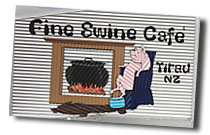 Corrugated iron is another rural kiwi icon and the much-maligned building material crops up in other places round town including signs such as the fine swine cafe and the clock peddler.
One of our favourites is a corrugated iron 'Leo' of a lion (bit of a mouthful) outside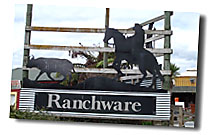 Tirau Woodworks, Garden Zone, Ranchware (what a treat!), i spy books, The Teddy Bear Maker the Crooked Halo , Funky Gifts and a clock shop (All interesting places in their own right). So take some time walk and enjoy.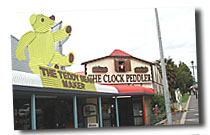 4. Just up across the road from the dog and sheep you can walk into a shell and jade factory where NZ jade, known as greenstone, is carved into jewellery and sold to the public.
The store has a wonderful collection and their prices are very competitive. Ask about the meanings of the contemporary and Maori designs. Maori also believe it is unlucky to buy yourself greenstone jewellery so give your money to a travelling companion so they can buy it for you...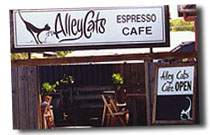 FOOD
Next stop, before you explore some more, is usually for a refill of the non-petrol variety. Tirau has a growing collection of good eateries.
1. One of the most popular in our circle is the Alley Cats Espresso Cafe, which is down the alley behind Home Sweet Home. Or try the Cabbage Tree Cafe. However, look around as there are plenty to choose from.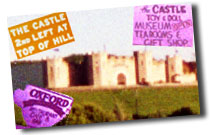 2. You can apparently 'Dine Like royalty' at The castle on up the hill at the southern outskirts of town. This new landmark also houses NZ's largest collection of dolls, toys and teddybears inside its awesome building.
3. Or you could check out and try a flavour or two of delicious Rush Munroe ice cream-from Hawkes Bay maybe at Claraz Danish Delight; venture along to the Loose Goose or Okoroire Hot Springs Hotel on Somerville Road or perhaps the Bloody Mary's Restaurant or even Tirau Ronnie's Cafe. Those catchy names are everywhere!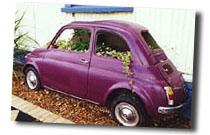 4. For lunches, cafe meals etc there is also the Oxford Royal Hotel and . Our list is by no means comprehensive but there is something for everyone.
5. For those of us with a sweet tooth or two Tirau also has a honey shop, which promises real honey ice cream and other real buzzes, and further up the street find Candyland.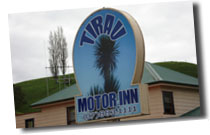 MOTELS
1. They pretty much have everything including the 'The Tirau Motor Inn' so you can continue the great shopping. Try also Okoroire Hot Springs Hotel, Oxford Royal, Rose Lodge, Oraka Deer Park and Restaurant, Trout Fishing and Farmstay at Tirau.