Port Douglas lies an hour's drive north of Cairns and is a gem of a town with heart warming surpises! It is wonderfully romantic and "...soooo" relaxed! It's a great honeymoon getaway. Port Douglas is a great place to escape a Kiwi winter!

Even the bus trip there is fun, with lively "Dundee" style bus drivers, hosting your trip and cracking the quips:

...On switching bus shifts, one of the driver's comments about the other on his departure from earshot..."They let him out on day leave".

Another bus driver very calmly passed a masterful understatement regarding an oncoming car risking a tricky overtaking maneouvre "...he's keen".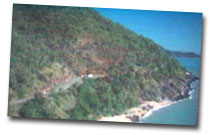 You hardly notice the time fly by while the seaside trip offers views of spectacles such as the white sanded Trinity Beach, ant hills and crocodile farms on the inland side of the road.
Needless to say, you feel at home and on holiday and the humor doesn't stop here.
One of the more invigorating experiences is a visit to the local restaurant called "Going Bananas". Run by a couple of French hosts, it has a jungle like feeling, which is wonderful and romantic, with candlelights and a delicious mediterranean dinner menu, right out of a Bogart-McCall classic.
Feeling rather relaxed with your fruit cocktail and conversation, you are expertly interrupted by the French barman the size of a pro wrestler with long black hair to boot (donned with a tropical Hawaiian shirt) who holds a frighteningly large pair of scissors, jams a strap of liquorice in your mouth and cuts it in front of your nose, grabs the other end and puts it in your partners mouth (couples only most likely) and leaves the rest to your imagination!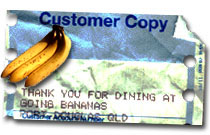 Nevertheless, by the end of your visit you are having the time of your life while at the same time experiencing the exhiliration of impending escape from the wild surroundings! - A world class night at a world class restaurant...and ...the food is delicious! - Beautifully cooked lamb shank so tender it falls off the bone and reef fish that melts in your mouth - Viva "Going Bananas"!
GETTING AROUND
Downtown Port Douglas is small enough to walk to everything so you needn't get a rental car - most excursions have a bus to take you where you need to go. Check out your hotels whereabouts also because the motels strip can stretch for miles and miles back to the main highway and that may not be convenient if you regularly want to step into town.
SIGHTS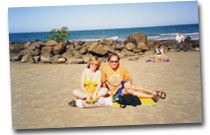 Check out the world class white sand beach where you can sunbathe and read a chunky paperback there's plenty of room to choose from. Take a hat or sunshade with you and plenty of sun block because it's hot.
It is also one of the best swimming beaches. However, check with the locals about whether there are jellyfish in the shallow beach water just to be on the safe side.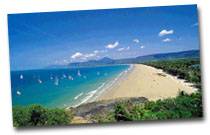 Port Douglas headland is also worth exploring.
Right beside the beach is a path up the hill to a scenic lookout.
This is a pleasant way to stretch your legs and it doesn't cost anything.
From the top you can see the beautiful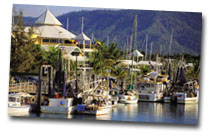 blues of the ocean and the beach below.
There's a picturesque marina close to the town and beside the nice shopping mall.
There you can charter a boat from one of the many charter agencies to take you sailing, fishing, or diving or just cruising the Great Barrier Reef.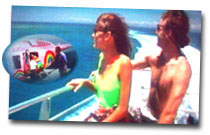 The Great Barrier Reef is about 8 km off the coast of Port Douglas.
It is filled with things to do and see in a variety of ways, whether it be by helicopter, or just cruising on a boat.
You can book on one of the charter boats at the local marina and experience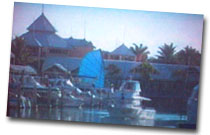 some wonderful deep sea fishing or just relax for a ride.
The ride out to the sea is enjoyable and you can soak in the beautiful ocean colours, sea breeze and sunshine as the boat leaves its trail on the turquoise water.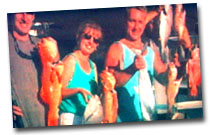 Close to the end of your trip you will most likely you will finish the trip with a good catch and maybe even dinner!
You may just prefer to do some scuba diving and experience the beauty and clarity of the great barrier reef!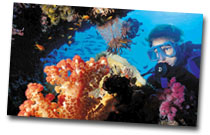 The fish are all different colours and the reef also, pinks yellows reds, browns and set in very clear water.
If you are not into scuba gear you can always do some snorkeling on the surface.
You will still experience a great deal of beauty in colour and sealife while relaxing and moving on the surface of the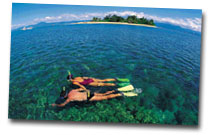 ocean.
You can go on a sailboat to Lowe island close by or go deep sea fishing and bring home dinner!
You can also experience the beauty of the underwater world and the rich colours of the reef and tropical fish.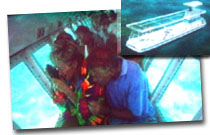 There is a semi submersible boat like a submarine, that allows you to view the underwater while in the safety of a regular boat.
Explore the underwater beauty without needing to get wet, or use diving equipment.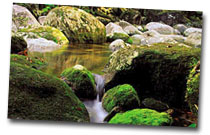 Enjoy some of the wonders of the nearby Daintree and Cape Tribulation Rainforests.
Just north of Port Douglas is the Mossman Gorge.
Here you can walk the Mossman Gorge tracks by the beautiful river and if you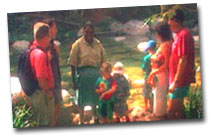 want swim in some of the freshwater swimming holes.
You can also hear a presentation by the Aborigine Landowners about their special relationship with this area.
Further north from Mossman there are tour boats on the beautiful Daintree river.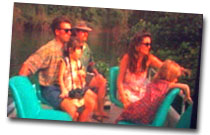 These boats have well positioned seats for viewing and take you safely past the saltwater crocodiles.
The ride is silent and smooth up the heavy forested dense brush river banks, much like a ride up a remote part of the Amazon river.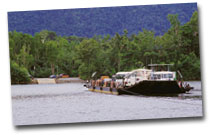 You can also admire some of the native colourful birdlife that inhabit this tropical wetland area.
Further north still you can venture across the Daintree River on a ferry with a 4wd vehicle.
It is rugged territory and a 4wd vehicle is a good way to experience this area.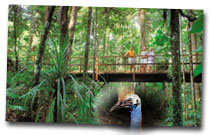 Here you can see the Cape Tribulation rainforest - the world's oldest living rainforest.
There are stunning views of the Cape through the forest and you can see the clash of two spectacles.
The Great Barrier Reef and the beautiful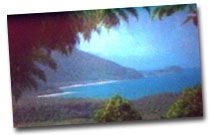 indigenous rainforest of Cape Tribulation at the same time.
You may also see indigenous exotic birdlife radiant with colours!
The flora and fauna of the forest is teaming with shades of bright greens and ancient fern trees clawing for sunlight in the upper layer of the dense brush.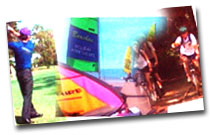 If you are keen to stay closer to the town and get involved in more sporting endevours and some exercise.
You may want to experience some golf at one of the local golf courses.
You can hire small sailing boats or windsurfing gear right off the beach.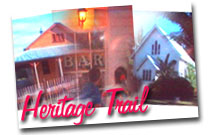 You may be into mountain biking or cycling and there are interesting routes to cycle.
Or you may prefer even walking!
There are some good walking activities including a heritage trail you can get from the information office.
It points out some of the local landmarks and their history, including one landmark building that has been transformed into a museum!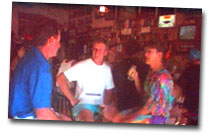 Port Douglas has a trendy nightlife with live bands regularly featuring at the different bars.
There are also lots of good restaurants (see the food section later in this article) and a lively cafe culture.
SHOPPING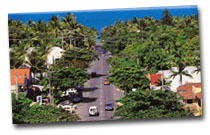 Most shops are all on the main street -"Marcrossan Street".
This street has restaurants and a variety of shops.
It caters to most needs from clothes to food to email or video entertainment and more.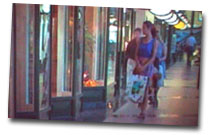 There's even a full scale mall down by the harbour, with world-famous brand name stores!
Port Douglas has a large newsagent bookshop that is roomy and located on the basement floor entry on Marcrossan Street.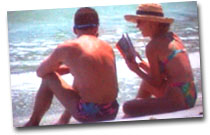 Some of the shops you walk down steps from the street to enter the shop).
It has the latest paperbacks and magazines and newspapers as well as typical stationery supplies to keep you busy on the beach during the day or at the coffee shop, ...so get stuck into a good read!.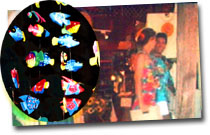 There are also a variety of interesting gift shops. They have tropical fish mobiles and facinating hand crafted gifts.
For attractive souvenirs and clothes -try "Something Tropical" (at 27 Macrossan).
There is even an "op shop" .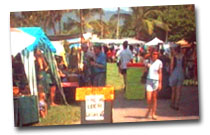 Here you might pick up a nice top of stylish gear for "a song".
Sunday you can visit the local "Market" with crafts and fresh produce.
The market is filled with canvas display tents.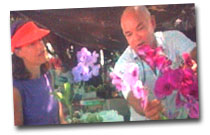 It has a relaxed and tropical feel about it - great for the whole family!
You can buy a beautiful locally grown orchid flower or pick up a fun hat to protect you from the sun.
Take your time and stroll through the lively market and you may stumble on that item you've been looking for!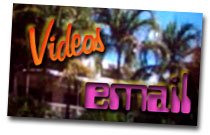 Port Douglas has a great video store, with awesome titles of old and new movies.
You can rent one for a 'night in' at your hotel (some hotels and serviced apartments have VCR's in the rooms).
The video store also has email facilities.
FOOD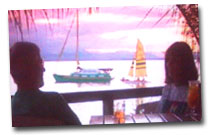 Restaurants abound in Port Douglas.
Most are all on the main street - "Marcrossan Street".
You can enjoy a nice drink overlooking the ocean and watch the sun as it sets and changes the sky to beautiful colours.
Try the Thai restaurant, the "Iron Bar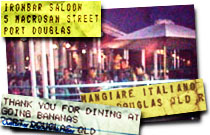 Saloon" (which features classic Australian outback construction...corrugated iron).
There is an Italian restaurant called "Mangiaere Italiano", not to mention the unique "Going Bananas" and many more restaurants, to enjoy for food, fun or romance in the tropical atmosphere.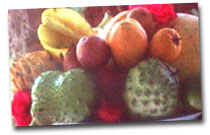 The town also has a handy supermarket with reasonably priced food, fruit and vegetables.
Just look at this beautiful plate of local fruit...delicious! It's nice to get some groceries and enjoy some of your favourite snacks during the evening for a 'night in' or in the daytime.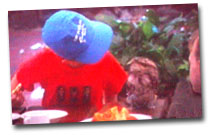 "Breakfast with the Birds" is another unique experience offered at a facility close to Port Douglas, where you can dine in the morning with tropical birds close beside you.
Great for the whole family!
HOTELS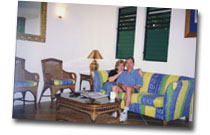 "Martinique on Marcrossan" is a newish 3 storey gorgeous stucco style serviced apartment complex where you can get units with a kitchen, elaborately decorated and well appointed inside, offering comfort and island-style ambience, fairly inexpensively and right in town.
With ceiling fans, a privated deck, louvre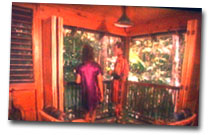 doors, coffee table, your stay is a pleasurable experience.
Most rooms here have a VCR, which is enjoyable if you want a 'night in'.
There are accomodations suitable for all budgets.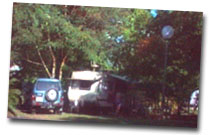 From elaborate 'stays' at hotels inside the forest with beautiful views of the forest off the deck area.
There are other hotels with gorgeous decor, water features and amenities.
There are also guest houses, single units, caravan parks and youth hostels in Port Douglas.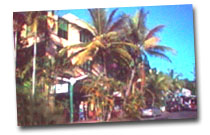 There are also a lot of multi room hotels being built offering you a full range of accomodation options. It is increasingly where the stars and "celebs" hang out. Bill and Hillary Clinton stayed at one of the 5 star hotels along the beachfront. Ask your travel agent for a recommendation or try the internet because they may give you a better rate if you book online.
Thanks to the Port Douglas Daintree Tourism Association for the supply of these images.