...Here comes Hawke's Bay! The province on New Zealand's eastern, Pacific Coast, is increasingly the place to go for the finer things in life.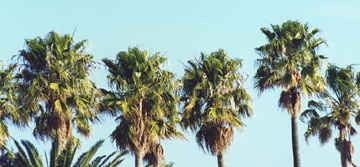 Great food, fine wines, excellent adventures and lots of time to relax. It's New Zealand's Napa Valley, Hunter, Yarra or Bordeaux, and you don't have to be a millionaire to soak it up and enjoy! Many of it's attractions are reasonably priced, or better yet, free!
You can spend as much, or as little, as you like exploring the region and we guarantee you'll be back for more! Yes Hawke's Bay is aiming to become a world-class food, wine and lifestyle playground and many kiwis, even Aucklanders, are discovering, and its a lot closer than they thought...
If you have yet to venture to Napier, Hastings, Havelock North and their Heretaunga Plains fruitbowl then you're really missing out. Equally, if you haven't been to Hawke's Bay for a few years, it is time to rediscover the province... It enjoys a Mediterranean-style climate (warm and dry) and is full of attractions for the whole family. The self-contained province is slightly off the beaten track (State Highway 1) but this provides a great psychological break from the rest of the country.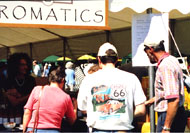 As we have already illustrated the Bay offers a full-on short break adventure for Kiwis and overseas visitors alike providing an appetising menu of attractions with something, from A to W, for every taste and interest, including the kids, including increasingly popular, and definitely sociable, weekend produce markets - where you can join the locals whether you need to stock up on vegetables or not.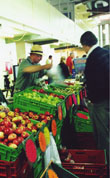 There are also, Food Trails, Art Trails, Art Deco Trails, Antique Trails, Wine Trails, Heritage Trails -even Four-Wheel -Drive Trails to name but a few. Many of the tours are self-guided all you need is a vehicle, map, the relevant brochure and you're ready to explore.
There is much more to Hawke' Bay than orchards, wineries, Art Deco architecture and its complementary cities of Napier and Hastings. It's one of the new millennium's 'in' tourism destinations - even (dare we say it) Auckland has discovered the province with top captains of industry quitting the rat race for its more leisurely lifestyle.
On, or before your arrival, you'll soon notice Hawke's Bay has been rebranded 'Wine Country' with its new burnt orange, yellow and blue sun logo (seen in Cuisine magazine and the like) popping up here, there and everywhere.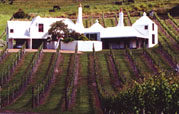 In November 2002 the Bay hosted the Second NZ Wine & Food Conference drawing tourism leaders from throughout New Zealand, the world (even envious Aussies) to sample its food, wine hospitality and attractions...Millionaire entrepreneurs have begun moving to the Bay to invest in it's wineries. Wealthy immigrants from the USA, southern Africa and Europe, who have moved to the Bay for its great lifestyle, give places such as Havelock North an increasingly cosmopolitain air. Conversations in French,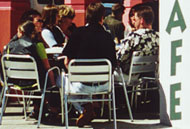 Dutch, German and Italian can regularly be heard at its cafes and restaurants.
SHORT BREAK SUGGESTIONS
We'd suggest you come on up, down, or over (depending on your perspective) for a long weekend.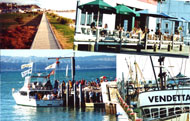 Base yourself in either Napier, Hastings or Havelock North and allow at least a day to discover Napier, (including its Art Deco subperb Marewa, and the fishing port of Ahuriri - Napier's new dining and entertainment hub), with its boardwalk, restaurants and importers' wholesale outlets.
Stroll along Marine Parade from the Tom Parker fountain, past the Soundshell Sunken Gardens, outdoor skating arena and Marineland, then enjoy a flat white or mocca at one of Napiers numerous cafes such as Ujazi, Rhythm n Blues, the Governors, Cappadonna, De Lucas, etc.
You can easily spend another day or two, exploring the weekend markets (be they the Village Market at the Lombardi Winery on a Saturday or the Farmers Market ( year-round) every Sunday in Hastings); wineries,
restaurants, various art and craft trails, road-side fruit stalls, and having a look around downtown, Spanish Mission-style Hastings with its great verandah-top floral displays in summer and recently upgraded mainstreet, Heretaunga.
Set aside another half a day to visit nearby Havelock North ( the Remuera of the south) with its designer brand label-laden stores, great cafes (we recommend award-winning Jackson's Bakery, the Olive Tree, Cuccini and George's Patisserie), and try the local drop, no its not wine this time, but H.N. roasted Hawthorne Coffee ( or buy a pack to take home with you!) and/or primo Village Press Olive Oil.
The Village, which has a population of more than 10,000 these days, also has a growing range of other eateries, from pub lunches at The Happy Tav or the English-styled Rose & Shamrock, to popular day and night-time social spot, Diva, or a growing range of fast food outlets. For an evening of virtually unrivalled fine dining book into a restaurant in the former Post Office, La Postina.
Buying fresh fruit and vegetables, from the roadside stalls, around Havelock North, Hastings and Clive is also well worth pulling over for. We recommend the super-sized fresh strawberries between Havelock North and Hastings ( if they are in season).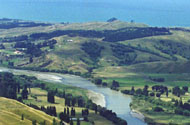 If you are in and around Havelock North a 10 minute drive up Te Mata Peak is also a must. The road is a bit windy towards the top but the 360 degree view is spectacular. Take your camera and Enjoy. Craggy Range Winery is the large building project between the lookout and the Tukituki River below. One the drive back down Peak House Restaurant, owned and operated by Raymond and his family, offers a refreshment break and undoubtedly the best evening view across the Bay.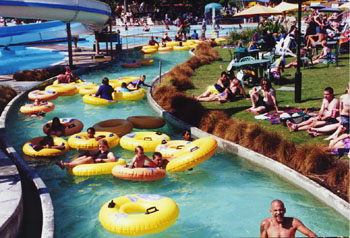 If you have children of any age (including in their 30s and 40s) another must do place to visit, especially in the warmer months, is Splash Planet in Hastings. The large acquatic park is full of action-packed fun for water lovers of all ages with its four large water slides, continual river, pirate ship, indoor and outdoor pools and loads of other activities. Take plenty of sun block, a chilly bin (or esky if you're an Aussie), plenty of picnic goodies and let the family fun begin. It's great for lots of exhilarating fun or if you just want to laze about in the sun or shade watching others doing lots of shrieking, hooting and big splashes. The slides are well supervised by lifeguards and the park has all the amenities, including lockers where you can safely store your valuables while you swim.

Napier also has a large swimming complex in Onekawa and now has a new saltwater pool complex on Marine Parade, not unlike the one in Mt Maunganui.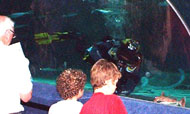 The new National Aquarium, along Napier's Marine Parade, is another top family outing regardless of the weather or the season. Where else will you get to see a sunbathing crocodile, seahorses frolicking, and ( if you look hard enough) a nocturnal kiwi and a real life dinosaur, the kiwi tuatara.
Marineland, with its dolphin, sea lions and penguins is also nearby, and a great Napier icon.
For anyone with young children, Jungle Junction at Ahuriri is also good value. The warehouse-sized indoor adventure playground is especially designed for kids up to the age of 10 and has a sunny cafe where mums and dads can enjoy a relaxed cuppa and watch their children having fun at play. You can even take turns and pop across the road to visit Whale's Tale's cavernous rooms full of antiques and collectables sans the children.
If the bigger kids are getting too boisterous and have plenty of energy to burn take them Kiwi Adventure Centre, on West Quay Ahuriri, where they can climb the walls, rather than you!
Trainworld in Dickens Street, Napier is also a popular stop-off with little boys of all ages. This is, as it's name suggests, a Lilliput with 32 trains, and upteen hundred little people, houses, tunnels and all the whistles and bells!
Clive, between Napier and Hastings, has another interesting attraction, a Jukebox Museum.
Hawke's Bay also offers a full range of evening dining and entertainment options. We'd suggest you spend an evening dining over at Ahuriri, either along West Quay, overlooking the marina with its yachts and fishing boats, at Blue Water Hotel, Shed2, Provedor, Thirsty Whale, Speights, The Gin Trap, or in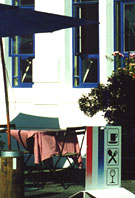 Ahuriri for either Indian or Thai food at The Master of India or Sri Thai, The Seabreeze Cafe at the sportfishing club...
Nearby Hardinge Road also houses popular eateries in East Pier, on the beach front, and The Boardwalk and Hot Chick. Waghorne Street similarly has Deanos, The Crown Hotel and Regale.
Next night try downtown Napier's range of cafes and restaurants including those on offer along, and near, Marine Parade including: Starbucks, Steak Out, Lone Star, Mongolian BBQ, Loaded Hog, Anatole's, Breakers, TakeFive, The Jade Garden, Pacifica (which is brand new), the Cosmopolitan Club, Brasserie 311, and Restaurant Indonesia. Jo Miguels is a new Spanish-style tapas bar and restaurant on Hastings Street. There are number of good value for money ethnic restaurants downtown, including Indian, Chinese and Middle Eastern.
Hastings also offers a good range of restaurants from the Corn Exchange and St Vinees to Hettinger Estate.
Many of the leading Hawke's Bay wineries also have their own restaurants such as Vidal Estate in St Aubyn Street, Hastings (which is always popular), Te Awa Farm and Sileni (out between Hastings and Taradale-Fernhill), Church Road and the Mission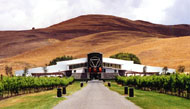 in Taradale, Brookfields near Meeanee, Crab Farm near Napier Airport, Clearview and Kim Crawford towards Te Awanga, St Georges and Bradshaw Estates near Havelock North. Take your pick for the evening and book early to miss disappointment.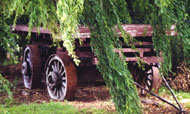 For top of the line, exclusive dining they do not come any better than, Ormlie Lodge, near Taradale, or Mangapapa Lodge, enroute to Havelock North.
For anyone wanting a more casual dinner how about one of the great range of fish and ship shops in the Bay.
We recommend the Westshore Fish Cafe (which has won so many awards we don't think they're allowed to enter any more) and virtually any of the fish n chipperies in the Bay. Sapporito's, between Napier and Hastings, is also popular with anyone who likes freshly made Italian takeaways. Napier also has a Valentine's Restaurant overlooking Clive Square and the Mole and Chicken in Clive is a popular family restaurant.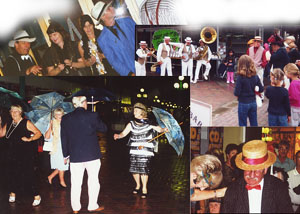 As for the night life' Well, Napier comes alive on balmy summer's nights - especially on Art Deco Weekend which we personnally recommend for a romantic weekend!
The festivities include dancing in the streets at night, the picnic, bike tours, vintage cars - an exciting collection, jazz and brass ensembles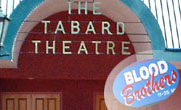 playing dance tunes of all styles and barber shop singers.
The Tabbard Theatre over in Ahuriri also has a busy schedule of local operatic shows.
We thoroughly enjoyed Moby Dick, a New Zealand first, and Blood Brothers is on it's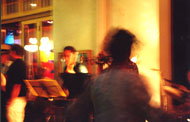 way.
Ticketek will have what's on where. Both Napier and Hastings have multi-cinema complexes and for more Sundance Film Festival type offerings try Century Cinema just off Marine Parade. It's part of the Museum complex. Also, new is Cinema Gold in havelock North with luxury seating arrangements.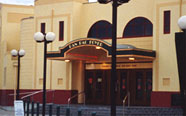 The Municipal Theatre, another Art Deco jewel, operates all year round giving locals and visitors alike the chance to see a range of shows, orchestras, ballet and other top entertainment.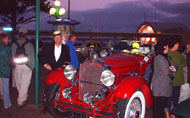 GETTING TO HAWKE'S BAY.
Thanks to modern transport and major deviations on the Napier-Taupo Road it is only a few hours drive from most of the North Island. The days of being car-sick on the long, twisty, turny, hot and dusty road from Taupo are long gone (thankfully) with most motorists thoroughly enjoying the scenic drive from the volcanic plateau over the ranges and through to the Bay in under two hours. There are really only three big hills left - and once over them - it's a quick wind-down into the Esk Valley. Now it only takes a morning, or afternoon, to get to the Bay even from Auckland which is five and half hours drive away.
Tip: Remember to check your petrol or diesel, and take a rest break, before leaving Taupo as the next real pit stop is in Bay View ( nearly two hours away). Have a cuppa at the Robert Harris Cafe or McDonalds before you set out.
Driving up from the south....
Head either up to Taupo on the Desert Road (SH1) then onto the Napier - Taupo Road or, quicker still, drive up through Central Hawkes Bay the towns of Waipukarau and Waipawa to Hastings then you can take the new freeway (just follow the signs) and head up to Napier...it's about 4 hours drive from Wellington.
Napier Airport is also only a short commuter flight from Auckland and Wellington for anyone wanting to beat the weekend and holiday rush. Check out Air New Zealand and Origin Pacific's special fare deals. Palmerston North's International Airport is only a couple of hours drive away too. During the busy summer season ocean-going cruiseliners regularly dock at the Port of Napier to let their passengers disembark for a day or two of sightseeing.
GETTING AROUND
To make the most of your stay in the Bay you need to plan what you want to do before leaving home so you can arrive and get stuck in to some serious leisure activities from the word go!
While the busiest months (tourism-wise) are from September through to May Hawke's Bay is open year round and, for the most part, operates seven days a week.
When recommending what we think you should see and do it's hard to know where to start but here goes...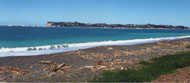 If you have driven in from the north take in the sights of the Esk Valley, including Linden Estate Winery and the lavender fields, before driving through Bay View and along the coast to Napier. The views from the Napier Hill and the Port are really eyecatching and worth a short stop on the Esplanade at the north end of Westshore beach.
Once you've driven past Westshore ( Napier's seaside suburb) and over the bridge you'll see West Quay and Ahuriri off to your left. You can turn off down there an explore the popular harbour-side entertainment area or leave it till later.
Conversely, driving into Napier you'll reach the first of three roundabouts (where the railway crosses) and can go either left (on 50) to drive round the hill past the port onto Marine Parade or follow the signs, down the main drag, and drive straight into the cityalong Hyderabad Road, veering off onto Carlyle and intoTennyson Streets, or via Thackeray Street.
Tip: Most parking is restricted to one hour and is metered in Napier (40 cents per hour) but you can park along the seaside of Marine Parade, where you'll find the Information Centre and the public toilets, for 2 hours (non-metered) or up Shakespeare Road, down along by The Warehouse , on Hastings Street. or around behind Duckworths and the Movie Theatre (unmetered). If even metered parking is of a premium try out in front of the Police Station on Dickens Street. There are two public carpark buildings, one in Tennyson Street and the other off Dickens Street.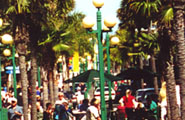 Having gained your bearings (which is not hard with Napier Hill as a central reference) it's time to explore. We recommend strolling along Marine Parade, from the War Memorial Centre to Marineland - then back down into Emerson Street past all the landmark buildings and alfresco eateries. Side-walk cafes abound in Napier, in amongst all the impressive Art Deco arcitecture.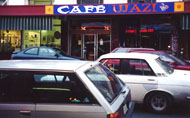 Popular favourites include: trendy Ujazi and new La Bella Rossa on Tennyson Street. Hastings Street has Humbugs, Thorps, Cafe Divine. Upper Emerson features Starbucks, Forge and Esquires. Lower Emerson has Cappadonna, Mana, Sappho and Heath, Harrisons in the mall and back on Emerson, Starving Artist and Zig Zag. Cafe DMP, Cafe Anatolia on Dickens Street... or McCafe at McDonalds on Thackeray Street which recently opened and consistantly has great coffee at argubly the best prices in town! Another McCafe is about to open in Hastings so stay tuned.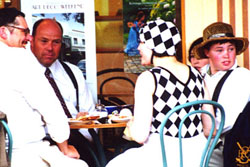 There is also a great icecream parlour, Rendeezvous, on Emerson Street which makes mouth-wateringly good crepes. Try some Rush Munro icecream, which is made in Hastings. It is some of the best in the world! We recommend passionfruit or for a real taste of Kiwi - feijoa flavour.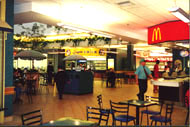 There is also a McDonalds in Ocean Boulevard Mall on Emerson Street, which also has a food court, including a sushi shop.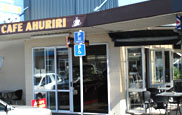 Over in Ahuriri stop off for a coffee at Cafe Ahuriri, Cafe Nosh or the ever hip seventies pad, Hep Set and Mooch along West Quay, or pick up some great Italian delicacies such as dried apricots, cashew nuts and olives from Vetro, who import direct, mainly from Spain and Italy.
If you are after a supermarket or fast food outlet the best selection is off Carlyle and Thackeray Streets (in and around BP & Clive Square and the Balmoral shops) where you will find Woolworths, Countdown, Pak n Save, McDonalds (and McCafe), Burger King, KFC, Pizza Hutt, Hells Pizza, Subway and The Brew Shack (next to Downtown Cinema 4).
SIGHTS TO SEE
Next it's time to decide what you'll like to do - stroll around the shops - take an Art Deco walk or pick up a brochure and go Antique Trailing. Ask the Info Centre or call in at the Art Deco shop on Tennyson Street (across from Clive Square and Valentines) and ask about the Deco activities. If you book in advance you can even have Tea & Tiffen with Bertie ( a real life 30's character who is a full-time Ambassador for Napier). International visitors who've taken tea and cakes with Bertie highly recommend it. Guided Art Deco walking tours are regularly held through the CBD and are free.
As many readers will know downtown Napier was largely rebuilt in the 1930s and 40s after the devastating 1931 Earthquake. The quake, which registered 7.9 on the Richter Scale, changed the Napier landscape for ever, wrecking many buildings, killing over 200 people and heralding the Art Deco (building design) era. Earthquakes are still relatively common in the Bay but (touch wood) nothing of the magnitude of the big 1930s shakes.
Napier is also well-known for its art galleries and antique shops. We recommend a walk around the central streets to Statements and the Napier Antique Centre, all on Tennyson Street, and then on to on Hastings Street to Tudor or Raphaels antique shops. Starving Artist Cafe on Emerson Street cafe and art gallery combined.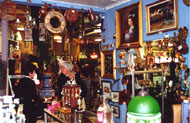 There are also a couple of antique shops by the fishing boats in Ahuriri. One, Whale's Tale, is a major tourist attraction in its own right which specialises in furniture and freights it all over the North Island and the world. Other interesting shops in Napier include Inhabit Design Store, Beattie & Forbes bookshop, and Jessica Design Store on Hastings Street.. Emerson Street has a great selection of shops to rival anywhere in New Zealand,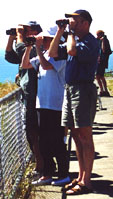 Downtown Napier is also home to Marineland (for dolphin, sea lions, penguins and the like), the just opened multi-million Aquarium of New Zealand, and Napier Museum with its great Napier Earthquake display, local Maori carvings, art works and display of household object s through the decades. All are within walking distance on Marine Parade.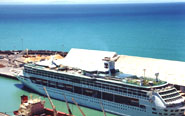 During a day in Napier, visitors may also want to visit two popular spots on Napier Hill - both of which are free to see: Bluff Hill lookout, with its great views over the Bay and the busy Port of Napier and occasionally a paraglider or two) is the first. Follow the signs off Shakespeare Road. The panoramic view out across the Bay and looking down onto the busy seven-day -a week port is simply awesome. No two days are ever alike.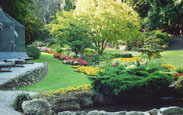 Secondly,Napier's Botanical Gardens, with their aviaries, historic well, graveyard and specimen trees are also well worth visiting. Pure Victoriana, the gardens are one of the earliest features of Napier and date back to the 1850s. It's a great spot fo a family picnic or a stroll amongst the now large specimen

trees.
See the picture of Peter beside the huge redwood! The well was where early hill settlers and the army regiment used to draw their water. A quiet, reflective stroll through the cemetery (where many early settlers through to 1915 are buried) is also on offer. You'll find some of the leading lights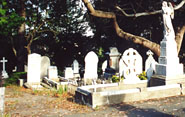 of the Bay, including William Colenso, buried there and occasionally some who perished in the Earthquake.
(The Botanical Gardens are off Carlyle Street and Chaucer Road at the inland end of the Hill)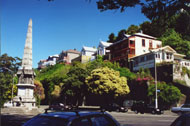 People who love and appreciate old homes would also enjoy winding in, around and over Napier Hill as many of its magnificent wooden homesteads, some of which date back to the 1850s, survived the quake. Real fitness enthusiasts might also want to test their calf muscles around the hill discovering it's many sets of steps. If you want to walk from town over to Ahuriri the easiest route is over Milton Road (up from Valentines) or you can take the longer way round via the seaside and the port.
Ahuriri, named after a Maori chef, is one of the oldest parts of Napier. It's Iron Pot fishing wharf and West Quay pre-date the Earthquake and it's worth a special trip, be it by night time to dine, or by day to explore.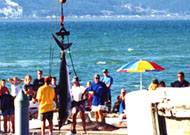 Ahuriri is home to the Bay's commercial and recreational fishing fleet, the tobacco industry (with its impressive Rothmans of Pall Mall Art Deco building), the old Custom House and a growing number of restaurants, importer's outlets, motels and hotels. It's fast becoming one of the Bay's top entertainment hubs.
The Hawke's Bay Sports Fishing Club recently opened a $1 million new boat ramp and holds a full programme of fishing contents and social happenings at its cafe and bar. Step inside and see the large mounted fish.
Americas Cup yachties, such as Dean Barker, are also known to hold the occasional race against the local "wind bludgers" in Ahuriri's Inner Harbour.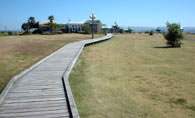 Regardless of the weather you can stroll around the wharfs and along the boardwalk to Perfume Point. East Pier and along to the ever-popular icecream shop "Cool Cat" on Hardinge Road, enjoying the harbour and seaviews. Who knows you might even see bungie jumpers in action, if it's high summer.
Tip: Visitors to the Bay should be warned that the stretch of beach from Marine Parade to Haumoana /Te Awanga, which is rocky with unpredicatable rips and surges, is not safe for swimming even on 35 degree plus hot summer days. You can, however, swim at Westshore Beach, at Ahuriri, along Hardinge Road and along to the Port; and in the Pandora lagoon over the highway from Ahuriri,.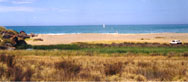 It's alongside Sh2 and is a popular windsurfing and canoeing spot. Good white sand surf beaches do exist in the Bay but they are a good drive from Napier and Hastings - Waipatiki to the north, Ocean Beach and Waimarama to the south. ( The latter easily rivals Mt Mangaunui, Ohope, Waihi Beach and the like). Hawke's Bay also a good selection of aquatic centres, Splash Planet in Hastings and the Onekawa Aquatic Centre in Napier to name two.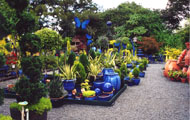 Other popular parts of Napier are Marewa ( the Art Deco suburb with its great bakeries and shops) and Taradale. Drive westward on Kennedy or Taradale Roads through towards the Mission Estate and the hills.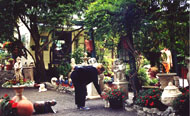 We recommend visiting the garden centres -especially Mission View Gardens and Palmers Garden World on Taradale Road (each of which has a cafe) and Tamatea Greenworld- and, if it's summer, the Kennedy Park rose gardens. Anderson Park is also a popular family recreation and picnic spot.
See also www.hawkesbay.com which is a good reference for further information about Hawkes Bay. See also www.onpoint.co.nz for more photos of the local area.
WHAT'S ON:
Big public events are spread throughout the calendar year - here are a few of the highlights to bear in mind in your planning.
SEPTEMBER
Hastings Blossom Festival. A celebration of Spring. Highlights include the Blossom Parade, leading national acts, celebrity artist performances, concerts and fun events.
Saturday, 29 Sep. Kelt Capital Stakes
The richest Weight for Age horse race in New Zealand, worth $250,000. Attracts some of the best horses in New Zealand to one of racing's finest and most competitive races at HB Racing Centre, Prospect Road, Hastings.
OCTOBER
Labour Weekend. Come and join us for the Hawke's Bay Show!
NOVEMBER
Napier Rose Society Spring Rose Show.
Everything comes up roses including the fragrances... Classic blooms of amazing quality, display vases of stunning varieties. Tamatea High School Auditorium.
Sunday, 4 Nov - Rose Sunday.
Family fun with entertainment and food in beautiful surroundings. An afternoon of fun for all.Location: Frimley Rose Gardens Frimley Park, Hastings.
Thursday, 8 Nov - Saturday, 10 Nov- Air New Zealand Trans Tasman Wine Challenge Teams of winemeakers from Hawke's Bay and the Hunter Valley contest this annual event at wineries around Hawke's Bay.
The Village Festival @ Havelock North.Central Hawke's Bay A&P Show Location: Waipukurau ShowgroundsSaturday, 10 Nov - Classics at Sunset.
Saturday, 17 Nov - Hohepa Country Fair - Craft Stalls, Live Music, Puppet Shows, Children's Events, Tractor Rides, Café. Location: Hohepa Clive.
DECEMBER
Dec - April 2003. Fiesta of Lights 150,000 lights & a million watts of fun! Join Alice in her Wonderland of thousands of twinkling lights which envelope lake-side walkways. Nightly entertainment. Fireworks to music on New Year's Eve 9.30pm & 12pm & 5 Jan at 9.45pm.Location: Waikoko Gardens, Hawke's Bay Showgrounds, HastingsDecember 31 - New Year's Celebrations at the Napier Soundshell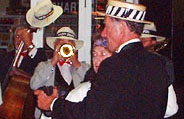 JANUARY
FEBRUARY
Harvest Hawkes Bay Weekend & The Mission Concert (Book for these eventsearly)
February 6, Waitangi Day Celebrations -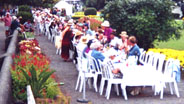 Clive.
February 15-17 Art Deco Weekend
MARCH
The Great Long Lunch
JUNE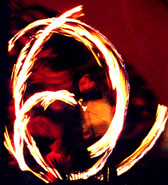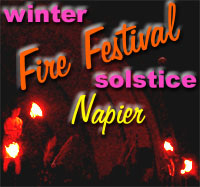 WHERE TO STAY:
There is a wide range of accommodation available in Hawkes Bay from camping grounds and backpackers to homestays and motels.
There are plenty of hotels and a new international hotel. Te Pania, is currently being built on Marine Parade.
Most of the accommodation is along Marine Parade, including Napier Travel Inn, Edgewater Motor Lodge, Beachfront and Shoreline Motels, which you will need to book. Just behind these, on Hastings Street, is Fountain Court.
One of the most popular places for families to stay is the large Kennedy Park complex on Storkey Street, Marewa.
Waterfront Lodge backpackers on Marine Parade is always busy and there is a new backpackers, The Portside Inn, is over in Ahuriri. Hastings and Havelock North also have budget accommodation.
Ahuriri also offers an increased range of places to stay including the Bluewater, Anchorage and the Harbour View.
Kennedy Road, also in Napier, has a number of motels, including Deco City, Pania Lodge, Snowgoose and Tuscany.
Havelock North is the second most popular place to stay offering everything from the new Woolshed Apartments (near Hereworth School) to other boutique-style accommodation such as The Doctor's Cottage, The Blackbarn and The Greenhouse, to Te Mata Lodge, Havelock North Motor Lodge and Brompton Apartments. Peak Backpackers is also right in the Village.
The Bay also has its share of camping grounds, from the Eskdale Caravan Park, through to Kennedy Park and Westshore Holiday Camp (Napier), the Clive Motor Camp, Arataki Holiday Park in Havelock North and the Hastings Top 10 Holiday Park - to name just a few. Portside Inn, at Ahuriri, also offers campervan parks.