London is chocka with excitement and the first time you get on the streets and see Big Ben and the Buckingham Palace guards you are on the edge of your seat for more! Coming from New Zealand you can't help but feel a sense of purpose to explore and get aquainted with the historic head of your Commonwealth life. Even though, as a New Zealander you are always exposed to the bi-cultural aspect of working together and identity, there is still a facination with this place called England and especially its capital city - London.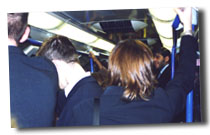 GETTING AROUND
London seems first recognised by most travellers by your entrance on the 'Tube' - the underground train system that gets you around the city, and you usually board it directly from the airport!
SIGHTS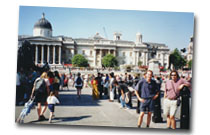 Trafalgar Square has the heavy bronze lions, so familiar in movies, that sit on concrete pedestals. Around this large concrete concourse drive bustling double decker buses - moving like elephants around London's streets. This square is packed with people from all nationalities much like yourself here to see what they have always seen on television or movies. It is a great place to stop and relax and take photos and the neighbourhood has lots of cafes to get some lunch and a coffee.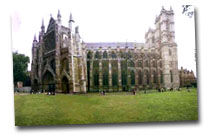 Westminster Abbey
In the middle of the city is the oldest and important church where monarchs have been buried. While it appears to be just another cathedral such as you would see elsewhere in the world - it's what is inside that makes Westminster stand out! You only begin to appreciate the abbey's great age when the guides and guidebooks begin talking about the tombs of famous figures and monarchs since the 13th century who are all buried inside. So too are the poor souls who died from the Black Plague in the Middle Ages. Many of the epitaphs on the tombs make for interesting reading. Being an abbey, obviously a place of worship, there is a certain reverence required. On entering the main hall you are exposed to the beautiful windows and ceilings and ornaments that reveal their history and age! If you happen to have a paper and pencil you can take 'rubbings' on the tombs of knights in the 'Brass Rubbing Centre'. The last tours for the day end in mid-afternoon.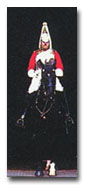 Buckingham Palace is daunting on your approach and most of the time you are wondering if you are going to catch a glimpse ofone of the Windsors - the Royal family that is! When you see the palace guards for the first time you have to stop and stare because it is one of those images you have grown up with and never expect suddenly to see in reality! Entering the main palace forecourt where the public assemble can get quite crowded when there is an appearance of parade, so much so that the only way you can get a picture is by holding the camera above your head and hoping that you will catch something interesting!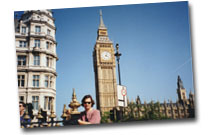 Big Ben is regularly visible around the city and quite often you will find yourself stopping because you have noticed a better photographic angle.
It is also exciting to see the River Thames while darting in and around the different streets and you wonder if you can see the many sunset colours in those famous paintings of the Houses of Parliament by Monet that captured this area (or you might simply stare with amazement because it all looks so familiar, albeit from television or a movie!).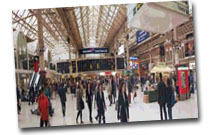 Victoria Station is very large and busy and you can have a coffee at the the group of shops in the middle of the station, or in the shopping centre upstairs, before you head on the train platforms to other areas of England such as Broadstairs or Dover.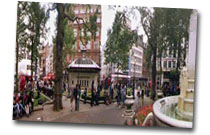 Leicester Square is well known as the entertainment and movie district and is full of famous nightclubs and good restaurants and food outlets. It is a popular place for young people to hang-out and socialise in on the weekends.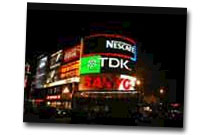 Piccadilly Circus
This neon sign-filled theatre district is famous for major shows and musicals hosts some of the best singers and dancers London has to offer.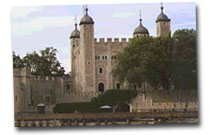 Tower of London Filled with history and feared throughout the centuries, this is a must for sightseers. The tower was they imprisoned and killed, the most notorious criminals and still houses the crown jewels. Like something out of Camelot, the old stone building, alongside the banks of the Thames, soon has your imagination running over time.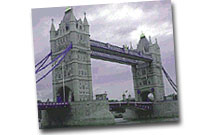 Tower Bridge The age and beauty attracts people to this monument, which is exciting to cross and see the raised bridge that allows ships to get through.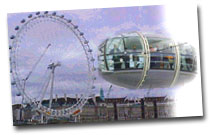 The London Eye has become world famous since British Airways opened the huge, slow-moving ferris wheel for the new Millenium. The half hour rides in one of the 32 pods offer better than bird's-eye views of central London (Big Ben, Parliament etc) and the Thames from its vantage point next to Waterloo Station.
RIVER TOUR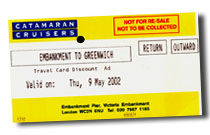 One of the best value for money trips is a river tour on the Thames.
Enjoy for a mere £7, an outdoor viewing history tour of the buildings and monuments dotting the Thames River in the centre of London.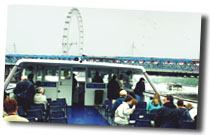 See the famous Millenium bridge that cost millions of pounds to fix when it started to 'rock'. the Shakespeare (rebuilt) Globe Theatre and many other spectacles as you gently drift along in a very pleasant open air viewing deck.
Tours can begin in the close to the city centre and tour to Greenwich where you can spend a half a day then come back. Highly recommended!
More to see: The British Museum, The National History Museum, The Victoria and Albert Museum, Kew Gardens, Kensington Gardens, Hyde Park, The Tait Gallery, St. Pauls Cathedral, The National Gallery, St. James Palace, Madame Tussaud's Wax Museum and Windsor Castle.
SHOPPING
There are many places you can visit on the Tube ride and you only need to look at one of the underground maps to see them all. One of the popular ones is a place called Camden Town.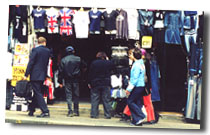 Camden Town is a trendy place where the young people (in age,attitude or both) run stalls and shops selling clothing for the fad conscious! Think green clog shoes with silver impregnated sparkle and fluffly flourescent scarves made of synthetics ! The street stalls are everywhere and sell untold products and accessories like cellphone covers and ties and sunglasses with the latest Italian-style CD's, shoes, belts,necklaces etc. The ATTITUDE there is high also in good ways and not so good. One ex-policeman ( of many years standing) I spoke to, who now lives in New Zealand (a real character), said, with a grin: "We used to round the drunks up in a neighbouring district on a Friday night and then drop them all off in Camden Town so that we could go home early".
Needless-to-say this district has atmosphere and is a great place to shop, have coffee, catch up on your emails and it's where you will usually find young people from other countries chatting to each other in French, German, Italian or English. Yes, Camden is a popular weekend hang-out.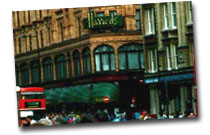 Harrods the famous London department store, owned by the famous investor Al Fayed, is lavishly decorated and maintained. You will be astounded at the stunning variety of beautiful products inside and how well they are presented - it's an inspiration for your future shopping. You might also find a special something that you will purchase.. well, why not... Harrods certainly lives up to its name!
Antiques
These are almost a national past-time, antiques abound around London and its districts and it is a pleasure to wander through one or two of these shops, to see some English treasures! Even if you don't buy anything you long remember the beautiful pieces you come across say along Portobello Road on a Saturday.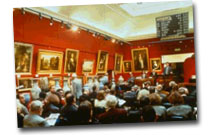 You can also experience a visit to the famous auctioneers in London - 'Sothebys', 'Christies'...watch an auction and be amazed at the prices!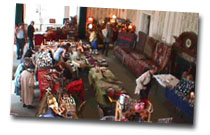 There are also antique fairs at different times of the year and you can probably get a list of them from antique dealers you meet.
Why not visit a car boot sale, ( where people gather at carparks each week selling knick-knacks at very cheap prices out of the back of their car's "boot").
HOTELS
There are plenty of hotels to visit in London, some of the more affordable ones however may best be found through a recommendation by your travel agent and check because they may give you a better price if you book through the internet.
SURROUNDING AREAS OF LONDON
Hatfield Palace and Hatfield House are wonderful visits to experience the magic of an English Royal manor, steeped in history and its neighbouring Palace which hosts weekly shows and a dinner banquet with 8 courses.
Located in Hetfordshire, just north of Barnet, which is accessible by train. Or you may wish to take a rental car drive just north on the M25 orbital freeway surrounding London, easy to find.
At Hatfield House you can experience the many halls and chattels of the House where King Henry the 8th spent time and also where Elizabeth the 1st was told she was to be Queen (while she was in the gardens in front of the House).
The carved oak panels and figures are breathtaking in the main hall as well as the furniture. There is a hall of armour and a library filled with books from floor to the tall ceilings. Some of the rooms have clothing or items worn by Elizabeth the 1st.
Outside the House are the many beautiful English gardens. Fountains, pathways, hedges and mazes adorn the Manor. At the front entrance where you approach the House to the right are some shops operating in the supporting brick buildings of the Manor and further over the large Palace Hall with Cathedral High Ceilings made of solid and complex wood trusses much the shape of a large wood boat structure if it was upside down, with beautiful curves and "gunshot" marks left by those who in those days did so to remove stray birds who were a niusance in the rafters!
On some nights of the week the Festive Banquet Dinner takes place at the Palace!
Long tables stretch the length of the interior filled with people from all over England (it's a treat with the locals!) as well as overseas visitors.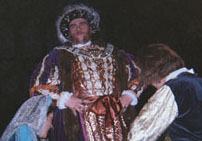 The night is permeated with dozens of waitresses termed "wenches", what seems like "dozens" of food "courses" or "...removes..." and much drama as you are hosted by actors portraying a jovial (and sometimes not so jovial....!) King Henry the 8th and Elizabeth the 1st, along with an appropriately "...demure.." looking threesome of court musicians and a "rather crafty" court jester.
A wonderful night out and highly recommended. Don't forget your camera!