Kalgoorlie is located in Western Australia's outback about 594kms inland, northeast from Perth. It's a working man's town, carved out of the arid landscape and is mighty proud of its heritage.

Kalgoorlie-Boulder is Australia's 'gold capital' and home to the famous 'Golden Mile' ( the richestsquare mile of earth in the world) and is rumoured to have more millionaires per head of population than anywhere in Australia.

So why would kiwis want to go there? Because its right, smack in the red earth of the Aussie outback and about as big a contrast as you can get from the small green islands of NZ. Visiting the goldmining centre is a real adventure and it's gloriously off the well-heeled tourist trails.

GETTING AROUND

You will probably fly into Perth and then on to Kalgoorlie where there are tours that can take you to the different sights, mines and towns. There is a bus service that operates regularly in and around Kalgoorlie-Boulder. Most overseas visitors to Kalgoorlie usually fly in (because of the huge distances) and hire a rental car or 4WD during their stay. Many of the usual hire firms operate from Kalgoorie's Airport and for something a little cheaper ask a local to point out the likes of Half Penny Rentals.

Tip: Organise this in advance or you could miss out - on some busy weekends rentals are at a premium. Kalgoorlie does have prompt taxis and a bicycle hire firm. In mid summer when temperatures can hit 40 degrees Celsius or higher anything with air conditioning will do!

SIGHTS

There are some good tours that give you a good view of this city's focus and its history.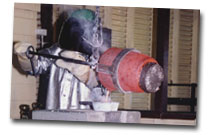 1. Plan to spend an hour or two at The HANNANS NORTH Tourist Mine which shows you what the first wave gold mines used to be like up close and personal. The diggers tents even smell authentic. It is all a bit rustic and even has a long drop. The tourist mine, which operates year-round, has an underground mine to explore, a rake line railway and everything you'd need in a miner's camp including a bank. In the goldroom 'gold' is poured each day as a guide shows visitors how they make those gold bars.
They would use industrial pincers to remove the gold block (dore) from the cylindrical mould, red to white hot and eventually to be turned into gold bars for use around the world.
You can even pan for alluvial gold the old fashioneday and kneel on a wood plank with your pan in the muddy water to see if you can discover a gleam of the gold flakes....or maybe a nugget!
Kalgoorlie is steeped in pioneer history dating back to the 1880s when would-be miners pushed their barrows, that's wheelbarrows!, across the desert, to strike it rich. It was a make or break it lifestyle in a hostile evironment where water is often more precious than gold. Today Kalgoorlie's landscape is pock-marked with gold mines. At one point there were 60 within a 100km radius of the town. Their largest concentration is 'the Golden Mile' on the outskirts of town where man-made hills and holes abound.

Biggest of all is the superpit, an enormous open pit which is starting to rival parts of the grand canyon yes, it is that big! (see photo above, which is a composite of 2 photos). The circled area shows a 120 tonne plus dump truck which gives you some idea of perspective. It is the size of an ant? and the pit is much deeper, wider and longer these days.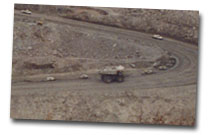 This is a close-up photo of the circled area in the photo before (photo right).
Here you can see the super-sized truck and the tiny dots are actually vehicles moving along the access road dug into the rock.
Generations of goldmines from all over the world, including a good number of kiwis, have came to Kalgoorlie since Patrick Hannan first struck gold. In its boom town days , when many of its great hotels and other buildings went up, and the main street was literally paved with gold (which they later ripped up), Kalgoorlie was a bustling city. One of the great places to visit so you can capture some of that old world atmosphere is the museum at the top of the main street (under the giant Ivanhoe poppet head) * See the Musuem of the Goldfields' info below. Deep underground in a special secure vault you will see a spectacular display of the shiny stuff dreams are made of the biggest golden nuggets in Australia. Think rocks, golden rocks!
Kalgoorlie is also famous for the Two Up Club, a strange circle of corrugated iron 10 kilometres out of town. It is pretty rudimentary but part of the Aussie culture. It is the only place in Australia where gambling is allowed outside a casino. Two up is a game played with two coins and is played out there after dusk, in the red dust, many a night. Fortunes have been won and lost out there.
But for all the booms there have also been busts largely thanks to Kalgoorlie's inhospitable climate, low to no rainfall, salt lakes, lack of water and the up and down nature of the international price of gold.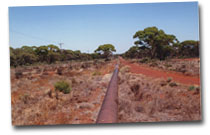 Major turning points in its history came when the railway came through the desert from the east and a 600km water main was brought in from Perth. Today the town's water tastes a bit tiny but it's not surprising when you know its spent 10 days in a pipe to get there.
There are many really interesting sights and experiences to take in at Kalgoorlie-Boulder, aside from the ever-popular pub crawls, skimpy bars and all the usual trappings of a goldmining town. Every so often you will also find a surprise or two amongst the jewellery and rock shops take the surf shop for instance. It's a long way to the sea in any direction. Esperance, to the south, is more than 400km away. A Kalgoorlie surfie would have to be pretty 'keen'.
Here is a selection of other sights to take in: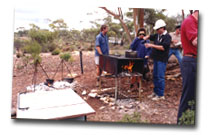 2. The Boulder City Railway has a Historical Society Display showing what it was like to live at the goldfields back in the early days.
3. Bush Tours- show you the outback and can be custom catered for depending on your itineraries (like prospecting or wildflower tours) and also depend on how many people are in your party.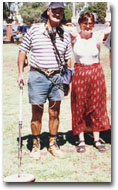 4. For an interesting excursion try the Goldfields Motorcycle Tours - You can ride on the back of a sidecar of a genuine "Hog" motorbike.
5. Museum of the Goldfields - This can take you to the top of a structure on a lift (elevator) and give you a panoramic view of Kalgoorlie. They show displays of jewellery and large gold nuggets also.
6. If you are keen on trains, the Boulder City Railway Station has steam locos and you can ride one with a tour.
7. If you fancy getting rich you can take an interesting ride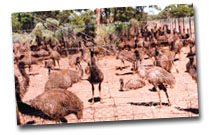 and try your luck on a tour called "Boorara Fossicking Package" where you can use metal detectors.
8. Out on the road towards Coolgardie is the Kurrawang Emu Farm which has tours where you can see emu farming in action.
Emus are farmed for use in products such as creams and ointments and have interesting lifecycles, which you can learn about on the tour.
Coolgardie also has another outback attraction, a camel farm where you can get up close to the camels, ride one if you dare, and learn about their lifecycle and habitiat.
SHOPPING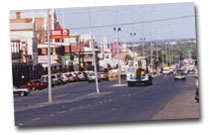 Kalgoorlie has some good shopping. Downtown you can try Burt Street in Boulder, Southlands Shopping Centre, Hannon's Boulevard and Hannon Street and shops.
Hannan Street is Kalgoorlie?s main drag and is amost as wide as it is long thanks to the old days when camel trains had to turn around on it. The photo on the right shows looking from the top of Hannan Street.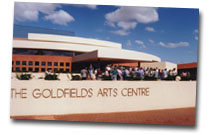 Most shops open late on Thursday and some until 5pm on Saturdays. The 'ladies' down Hay Street keep rather more irregular hours! It is all very colourful? we won't say any more.
There are also some good art and craft galleries such as "Green Door Gallery", "Kalgoorlie Galleries", "Potters Corner" and "Goldfields Aboriginal Art Gallery".
In Boulder there is the "Yilba" shop and the "Mokhayber Art Studio".
FOOD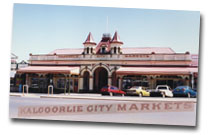 The food markets in Burt Street are good to try. There are a variety of restaurants in Kalgoorlie -Boulder.
Chinese try "Fu Wah Chinese", "New Hong Kong" and "Wah On".
Italian try "Mangia Bene", "Basil's on Hannan"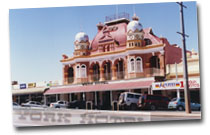 Thai try "Top End Thai" and "Golden Elephant Thai"
Mexican try "Loaded Cactus"
Mediterranean try "Amalfi" or for a typical Australian-New Zealand nice meal try the "Albion Shamrock" or the "York" Hotel (photo left) on Hannan Street.
HOTELS
There are a wide range of hotels motels and backpackers and it is not difficult to find a good place to stay at a reasonable price. As there is only a limited supply of housing in town, many locals, especially the kiwis, live year-round in camping grounds such as the one in Boulder. Many of them live in mobile homes or caravans some of which have all the mod cons including up to three bedrooms.